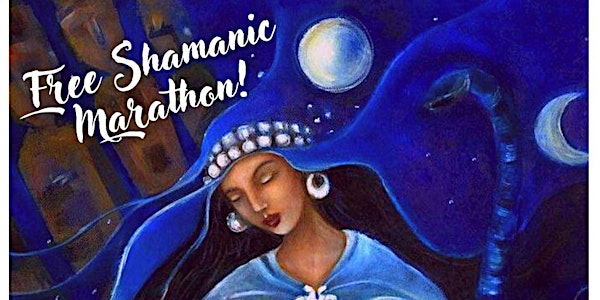 FREE SHAMANIC MARATHON. THE REBIRTH OF HEALING FEMININE POWER
21 days FREE marathon. Practices, dance, yoga, shamanic mediations. Practice at home at the time you prefer. Enjoy and share joy!
About this event
𝑻𝒉𝒆 𝑹𝒆𝒃𝒊𝒓𝒕𝒉 𝒐𝒇 𝑯𝒆𝒂𝒍𝒊𝒏𝒈 𝑭𝒆𝒎𝒊𝒏𝒊𝒏𝒆 𝑷𝒐𝒘𝒆𝒓 𝒊𝒔 𝒔𝒕𝒂𝒓𝒕𝒊𝒏𝒈 𝑵𝒐𝒘!
Every woman is divine. Every woman has infinite source of energy of Creation of the Universe in her womb.
Northern Shaman Aayla has prepared for you the ancient knowledge, rituals and practices to restore your natural energy, and reconnect with your Power.
21 𝘿𝘼𝙔𝙎 𝙁𝙍𝙀𝙀 𝙈𝘼𝙍𝘼𝙏𝙃𝙊𝙉
🌿 𝗧𝗛𝗘 𝗥𝗘𝗕𝗜𝗥𝗧𝗛 𝗢𝗙 𝗛𝗘𝗔𝗟𝗜𝗡𝗚 𝗙𝗘𝗠𝗜𝗡𝗜𝗡𝗘 𝗣𝗢𝗪𝗘𝗥 𝘄𝗶𝘁𝗵 𝗦𝗵𝗮𝗺𝗮𝗻 𝗔𝗮𝘆𝗹𝗮
🌑 𝙎𝙏𝘼𝙍𝙏 𝙤𝙣 26.09 𝙉𝙚𝙬 𝙈𝙤𝙤𝙣! 🌑
𝗜𝘀 𝗶𝘁 𝗽𝗼𝘀𝘀𝗶𝗯𝗹𝗲 𝘁𝗼 𝗷𝗼𝗶𝗻 𝗮𝗳𝘁𝗲𝗿 𝟮𝟲𝘁𝗵 𝗦𝗲𝗽𝘁𝗲𝗺𝗯𝗲𝗿? - Yes!
𝗪𝗵𝗮𝘁 𝗶𝘀 𝘄𝗮𝗶𝘁𝗶𝗻𝗴 𝗳𝗼𝗿 𝘆𝗼𝘂:
• shamanic meditations and practices
• knowledge of the lunar cycle, and how to properly lay the program so that the moon helps to accumulate energy
• knowledge about feminine chakras and energy movement
• Shamanic astrology
• Aayla herself will be giving answers to most special questions!
• Music and inspiration
𝗪𝗵𝗼 𝗰𝗮𝗻 𝗷𝗼𝗶𝗻?
This Marathon is for all women who are searching for wisdom, for connection, for powerful practices from our ancestors that give health, vitality, help to amplify the channel of abundance, to harmonize family relationships. Specially recommended for Participants of the October Seminar, to prepare for it more deeply.
Join today, receive a welcome gift - video course about Soul Predestination! 💫
Our live events:
𝗧𝗛𝗨 𝟭𝟯/𝟭𝟬 𝟭𝟴:𝟯𝟬-𝟮𝟮:𝟬𝟬
💚 𝗪𝗼𝗺𝗯 𝗛𝗲𝗮𝗹𝗶𝗻𝗴 𝗖𝗲𝗿𝗲𝗺𝗼𝗻𝘆 𝗪𝗶𝘁𝗵 𝗦𝗵𝗮𝗺𝗮𝗻 𝗔𝗮𝘆𝗹𝗮. 💚
📍 Amsterdam (centric location), 30€ https://bit.ly/3AZKU52
💥 Exclusive! Shaman Aayla will be in Netherlands only few days!
𝗪𝗘𝗘𝗞𝗘𝗡𝗗 𝟭𝟱-𝟭𝟲/𝟭𝟬 𝟭𝟬:𝟬𝟬 - 𝟭𝟴:𝟬𝟬
𝗦𝗲𝗺𝗶𝗻𝗮𝗿 𝘄𝗶𝘁𝗵 𝗦𝗵𝗮𝗺𝗮𝗻 𝗔𝗮𝘆𝗹𝗮 🌿 "𝗥𝗘𝗕𝗜𝗥𝗧𝗛 𝗢𝗙 𝗙𝗘𝗠𝗜𝗡𝗜𝗡𝗘 𝗣𝗢𝗪𝗘𝗥" 🌿
📍 Castricum (close to the sea!)140€ (now 85€, limited tickets) https://bit.ly/3BUafiQ