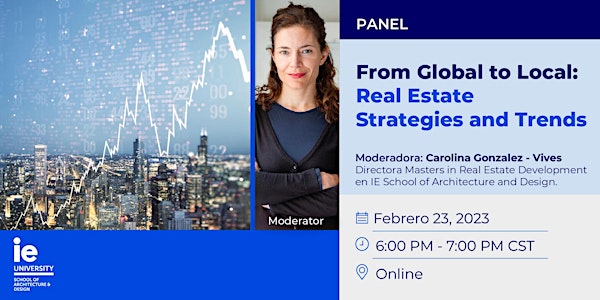 From Global to Local: Real Estate Strategies and Trends
Online Real Estate Panel Discussion
Date and time
Thursday, February 23 · 3 - 4pm PST
About this event
Os invitamos a esta conversación entre profesionales destacados de Real Estate, con distintos perfiles en el sector y alumni de la región de Colombia, Ecuador y Perú, moderada por Carolina Gonzalez Vives, directora de los programas MRED en IE University, School of Architecture and Design.
Analizaremos las tendencias innovadoras que se están introduciendo en el mercado de Colombia, Perú y Ecuador, relacionados con cambios sociales y económicos, generando nuevas oportunidades de inversión y proyectos para los próximos años.
Describiremos estrategias y productos, sectores y segmentos, que están incrementando su importancia dentro del mercado local, testadas o no en otras geografías, y de forma general valoraremos las características propias de Real Estate en Latam frente a otros mercados con los que se pueda comparar y poner en perspectiva, como Europa o USA.
Este Panel está dirigido a profesionales del sector de Real Estate, Alumni y estudiantes actuales de los programas Master de Real Estate Development full-time y part-time
__________________
Panelistas
Moderadora: Carolina González Vives, Managing partner at HIDRA DESIGN and Director of the Masters in Real Estate Development at IE University, School of Architecture and Design
Sebastian Luque Jensen, country head for Colombia and lead of business development in Latam CCLA Group
Adriana Hurtado Uriarte, executive Director of Real Estate Investments at Credicorp Capital
Laura Martinez, Alumni Global Master in Real Estate Development Part-time
Carolina Linares, Gerente de Desarrollo de negocios DC Grupo Inmobiliario
Alvaro Echevarria, Alumni Master in Real Estate Development Full-Time