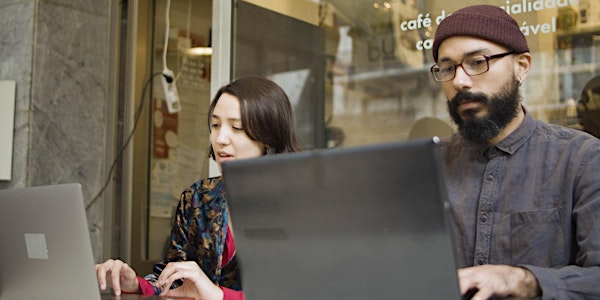 Future skills in design: Preparing the next generation of professionals
This webinar will explore the role of design in digitalisation and the skills needed for the Future of Work.
About this event
How can we empower and upskill design and communication professionals to prepare them for the future? What skills should they develop to provide effective customer and user experiences? Why is it increasingly important to design comprehensive digital business experiences and strategies?​
This one-hour webinar, co-organised by BAU's College of Arts and Design and RMIT Europe, will explore the role of design in digitalisation and the skills needed for the Future of Work. We will focus on the potential of critical design skills, such as User Experience Design (UX), User Interface Design (UI) and Customer Experience Strategy and Design (CX), to respond to the increasing demands in the digital business world.​

Head of Institutional and International Relations at BAU, Arts and Design College of Barcelona.
Coordinator of Master in Graphic Design Communication and Postgraduate Degree in Communication and Digital Contents Creation.

Ksenia is a linguist and educator who joined RMIT Online last year to oversee the delivery of the Future Skills short courses.
Her experience in different academic settings has played a major role in ensuring a consistent and high-quality teaching and learning experience for RMIT Online students.

Pete Argent is an experienced and extremely passionate technologist with over twenty years in the tech industry. This includes ten years at IBM as a software consultant and six years' operating a coding school.
During this time, Pete has delivered education programs for kids in schools and community centres as well as innovation and design thinking courses for government agencies, universities, NGOs, and corporates.
His involvement in tech startup product development has given him valuable expertise in hiring and working with UX, product management and customer acquisition teams.

A professional designer since 2009, Frieda has worked in digital and tech companies in Australia before moving to Japan and Singapore to work within the world of startup.
Frieda has a broad experience across B2C, B2B, and B2B2C, designing UX flows for mobile apps and responsive mobile-first websites, with pixel-perfect UI that solve real user problems.
In addition to her design skills, Frieda is a pro at aligning stakeholders and leading teams and projects.
She's currently based in London, where she works as the Head of Experience at Mindstone, an EdTech startup that's putting learners back in control to unlock their true potential.

Jonathan is a senior public services designer who has worked extensively with a range of government departments, not-for-profits and public bodies on award-winning transformation projects.
As Head of Design, Jonathan leads a team of designers that transform services, develop innovative digital concepts and define new business strategies.
Jonathan is passionate about social impact and has won two Good Design Australia Awards for social innovation.
He is also an experienced facilitator, professional coach and leads regular human-centred design training courses with Experience Lab, RMIT Online and General Assembly.