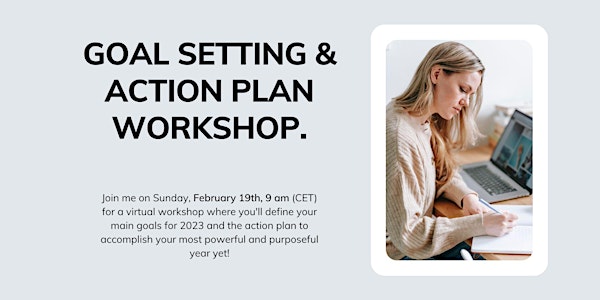 GOAL SETTING & ACTION PLAN
With my workshop, together, we will identify your specific goals and create a personalized, step-by-step plan to turn them into reality.
Date and time
Sunday, February 26 · 12 - 2am PST
About this event
The start of the year can feel both empowering and frightening, and it's a chance for us to start anew with good intentions and goals.
But January can also be terrifying. Business can be slow following the Holiday bustle and sometimes, the beginning of a new year can be a reminder of the goals we didn't accomplish in the previous year.
We all have the desire to achieve our goals and start the year off right but for many, good intentions stay as intentions only. It's easy to make our wish list, but then what?
That's why I'm inviting you to my GOAL SETTING & ACTION PLAN WORKSHOP. With my workshop, together, we will identify your specific goals and create a personalized, step-by-step plan to turn them into reality.
In this 2h workshop, I will teach you how to:
Learn how to identify what you truly want out of 2023.
Create an actionable 1-year plan that's compatible with your life.
Identify limiting beliefs that keep you from achieving your goals
Troubleshoot motivation strategies.
Define what kind of support you need to make things happen.
Rediscover your strengths to boost your self-confidence.
Who is this workshop for?
You feel overwhelmed and exhausted all the time.
You have an idea of what you want for 2023 but don't know how to get it.
You are excited to achieve your goals but frustrated because you don't have time.
You have neglected yourself and your needs for so long that you forgot about your dreams.
You want to make changes in your life, but you are afraid they'll stay as just new year resolutions.
What you'll learn is a life formula used in executive coaching and by high-stakes professionals that apply to any other goal you might have.
What I bring to the table:
17+ years of experience in optimizing time and processes for top companies.
10 years in creating businesses from the ground up.
5+ years helping businesses scale.
5+ years helping working mothers get the most out of life beyond raising their children.
5+ years helping entrepreneurs find and define their MAIN GOAL and design a coherent action plan.
Who am I?
Co-founder of SoundStorming.
Serial entrepreneur.
Senior Project Manager with 17+ years of experience in banking, design, motor, and fashion sectors.
Mother of 2.
A Certified Life and Business coach.
A Certified Mental Health professional.
A Certified Master Neuro Linguistic Programming Practitioner.
## FREE REGISTRATION ## If you sign up before February 6th! (Then it's 10€.)
### Your Registration Includes:
3 workshop modules with breaks in between.
All workshop materials and templates.
Connection & conversation directly with other professional women and me.
Live Q&A during the workshop.
Access to the full workshop recording.
Exclusive discount on a 1:1 six-month follow-up coaching session with me.
Get your spot today!
LIMITED SPOTS!