Description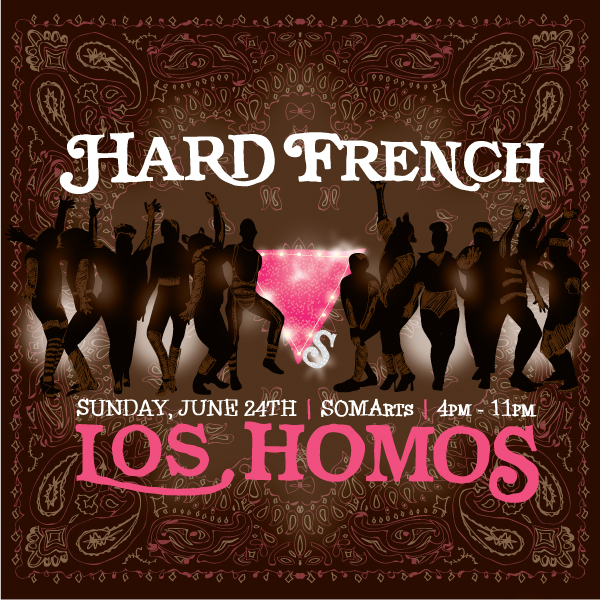 HARD FRENCH HEARTS LOS HOMOS 2012
Sunday, June 24th
4pm - 11pm
SOMArts Cultural Center
934 Brannan Street
Indoor/Outdoor Event With 2 Stages
GENERAL PRESALE TICKETS ARE SOLD OUT BUT THERE WILL BE TICKETS AVAILABLE AT THE DOOR!
$20 Limited Presale*
$25 General Presale*
$60 Hard French Lovers Daylong Pass**
*for limited presale and general presale tickets - you will have guaranteed entry into the event until 7pm. After 7pm we will open up ticket sales and entry is no longer guaranteed.
** for Hard French Lovers Daylong Pass - this guarantees your entry for our entire event. Every ticket purchased will come with two drink tickets.
Hard French and the Jiggalicious Dance Babes
DJs Brown Amy and Carnita
Spinning the baddest all-vinyl girl group grooves, northern soul stunners and funky foot stompers this side of the '60s
Live Performances by:
SSION (Kansas City)
Sugar Pie DeSanto (Oakland)
Beyondadoubt (Portland)
Hostess: Lil Miss Hot Mess
With drag performances by Lil Miss Hot Mess, Mona G. Hawd and Ambrosia Salad

Featured DJ sets:
Mustache Mondays (LA) with DJ Josh Peace
Mrs. (PDX)
Stay Gold (SF) with DJs Rapid Fire & Pink Lightning
Ships In The Night (SF) with DJ Durt
OH! (SF) with DJ Taco Tuesday
Bearracuda (SF) with DJ Medic
Food provided by Emmy's Spaghetti Shack and the Grilled Cheese Guy. Iced Coffee Provided by Farm:Table
RSVP & Get More Info on Facebook
Hard French hearts the local partners who, through their support, are helping create sustainable large scale community events including Fabulosa Fest, Emmy's Spaghetti Shack, Zazzle, Zipcar, Farm:Table, Explorist International, Amoeba Music, The Bold Italic and Svedka Vodka.
Hard Dancing. Hard Cruising. Hard Homos. Hard French
--------------------------------------------
HARD FRENCH
Hard French knows how to have a good time. For the past few years, the DJ/performance artist collective have been tearing up dance floors across San Fran- cisco, using El Rio as their home turf to spin a mix of vintage soul, sass, class, and BBQ.
Organizer of Hard French Hearts Los Homos Pride 2012
The Hard French Crew modernize, takeover, revamp, trick out, revive, and do up the outdoor afternoon dance party experience. This is a party for everyone – where drag queens mingle with lesbians, leather daddy's soul dance with Cholas, sharps share hot dogs with activists, jocks make out with twinks, brown meets white meets purple meets gay guy meets ladies meets q and everyone leaves excited to come back next month. The party is DJ'd by resident and soul music wizards DJ Carnita and DJ Brown Amy and has featured some of the best soul DJs in SF and beyond including Primo (Oldie's Night), Dick Vivian (Rooky Ricardo's Records), DJ Bus Station John (Tubesteak Connection), John Cameron Mitchell (Hedwig & the Angry Inch/Shortbus), DJ Shannon Action Slacks, DJ Lucky (Soul Party!) and more.