Sales Have Ended
Ticket sales have ended
** THIS EVENT IS SOLD OUT AND THERE WILL 50 TICKETS AVAILABLE AT THE DOOR BEGINNING AT 8:00PM**
Sales Have Ended
Ticket sales have ended
** THIS EVENT IS SOLD OUT AND THERE WILL 50 TICKETS AVAILABLE AT THE DOOR BEGINNING AT 8:00PM**
Description
** THIS EVENT IS SOLD OUT AND THERE WILL 50 TICKETS AVAILABLE AT THE DOOR BEGINNING AT 8:00PM**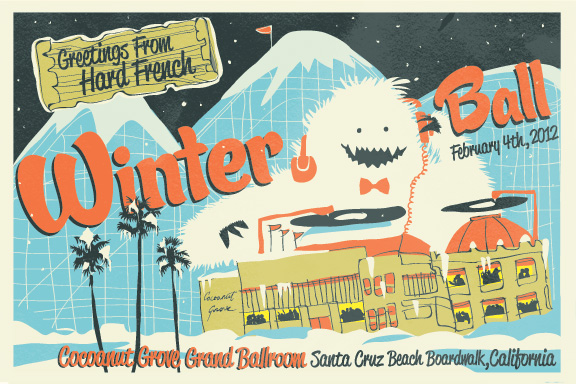 Hard French Presents:
The Second Annual Hard French Winter Ball
The Cocoanut Grove Grand Ballroom
8pm - 1am

*time has changed to 8pm so we can play an our longer!
A seaside weekend getaway with all vinyl soul music, performance, and a formal dance party in a turn of the century Grand Ballroom of the world famous Cocoanut Grove on the Santa Cruz Boardwalk.
Tickets:
$15, Advance Pre Sale, 100 tickets available
$25, Day of Event, Limited tickets available at the door.
note: all online purchases will come with a $10 credit towards your next Zipcar rental. This event is 21+.
yr Hard French DJs Brown Amy & Carnita
spinning vinyl ALL NIGHT LONG
the Hard French Jiggalicious Dance Babes
Revelations from House of Salad with special guest Glamamore
a special Coronation of the Hard French King and Queen of the ball hosted by Lil Miss Hot Mess.
Also check out:
our Frequently Asked Questions, Hard French Facebook Page, or sign up for our email newsletter.
for any questions about the event please email us at hardfrenchsf@gmail.com (please don't contact us via facebook)
Hard French Hearts Local Businesses!
HUGE thanks to our local partners:
Room 4 (official SF Ticket Seller!)
Saturn Cafe (official Santa Cruz Ticket Seller!)
Zipcar All current zipcar members will receive a $10 credit after purchasing a ticket to the Winter Ball. Follow the Zipcar link to get a discounted Zipcar membership (waived $60 annual fee)
Also special thanks to the following businesses for providing gifts to our Winter Ball King and Queen winners: Emmy's Spaghetti Shack, Saturn Cafe, Dynamo Donuts, Noise Pop, Q Bar and Population.
HARD FRENCH WINTER BALL from Dirtyglitter on Vimeo.
Organizer of Hard French Winter Ball 2012
The Hard French Crew modernize, takeover, revamp, trick out, revive, and do up the outdoor afternoon dance party experience. This is a party for everyone – where drag queens mingle with lesbians, leather daddy's soul dance with Cholas, sharps share hot dogs with activists, jocks make out with twinks, brown meets white meets purple meets gay guy meets ladies meets q and everyone leaves excited to come back next month. The party is DJ'd by resident and soul music wizards DJ Carnita and DJ Brown Amy and has featured some of the best soul DJs in SF and beyond including Primo (Oldie's Night), Dick Vivian (Rooky Ricardo's Records), DJ Bus Station John (Tubesteak Connection), John Cameron Mitchell (Hedwig & the Angry Inch/Shortbus), DJ Shannon Action Slacks, DJ Lucky (Soul Party!) and more.