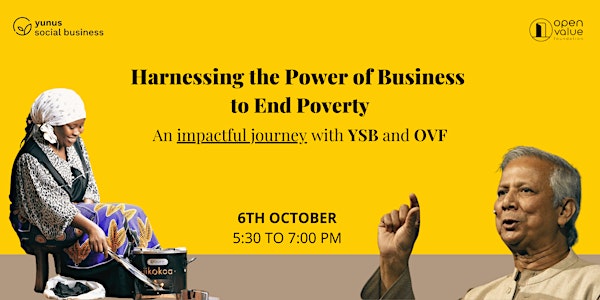 Harnessing the Power of Business to End Poverty
An impactful journey with Yunus Social Business and Open Value Foundation
About this event
We are delighted to invite you to be inspired by the collaboration of two key players in the Spanish and international impact ecosystem!
In 2011, together with Saskia Bruysten and Sophie Eisenmann, Professor Yunus founded Yunus Social Business (YSB) to focus on growing and financing social businesses around the world.
Open Value Foundation (OVF) became one of YSB's social investors in 2015. Since then, we have contributed to support social businesses in East Africa using venture philanthropy as an investment approach.
Join us on October 6th to celebrate the power of business to end poverty and learn from our partnership with one of the most relevant players in the international impact ecosystem.
We will reflect on the successes and failures along the way and take a look at what the future holds alongside YSB's co-founder Prof. Muhammad Yunus & director of investor relations David Berners, OVF's director María Cruz-Conde & project manager Álvaro Pérez-Pla and one of the most inspiring social entrepreneurs in the OVF & YSB portfolio: Burn Manufacturing (Kenya).
AGENDA:
5:30 pm: Welcome with OVF Director
5:45pm: Prof. Yunus's vision of a World of 3 Zeroes
5:50 pm: How to support social businesses to flourish with David Berners, Director Product Strategy & Investor Relations of Yunus Social Business
6:10 pm: Q&A and Fireside chat
6:20 pm: Social Business Success Story: a conversation with Peter Scott, Founder & CEO of Burn Manufacturing
6:45 pm: Lessons learned and vision for the future
Register here and be part of this celebration!