Circle of Music and Movement
About this Event
Lets spend this time together combining the healing power of the voice, the Australian didgeridoo and drums, and open our hearts, let go and become one with the sound.
Gregg Chapman will be leading this fantastic workshop with more than 16 different instruments that we will share to co-create an amazing vibe !
Price: 15€
Pasemos este tiempo juntos combinando el poder curativo de la voz, el Didgeridoo australiano y la batería, y abramos nuestros corazones, soltémonos y seamos uno con el sonido.
Gregg Chapman dirigirá este fantástico taller con más de 16 instrumentos diferentes que compartiremos para co-crear una vibra increíble.
Precio 15€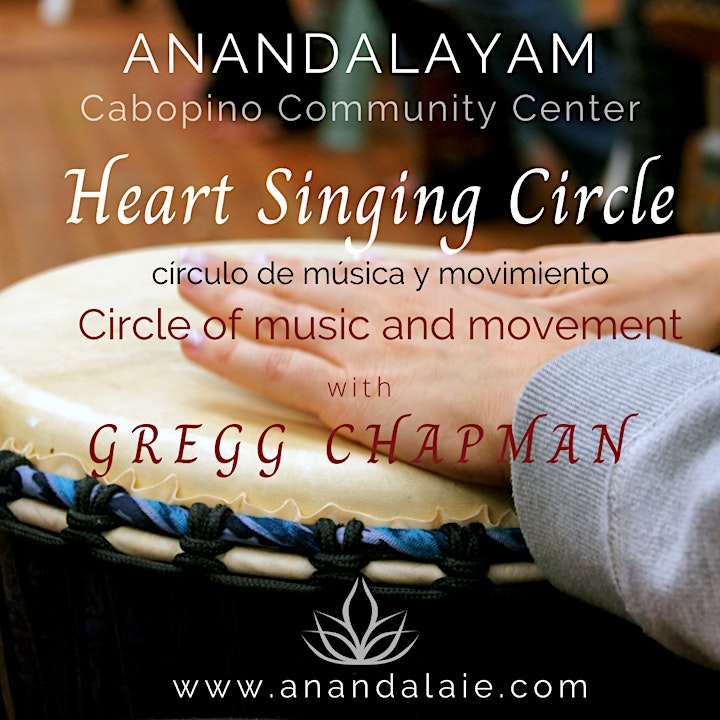 40 DAYS SLOW LIFE TRANSFORMATION PROGRAM
GRAND OPEN RETREAT 40 DAYS TRANSFORMATION
February 15 to March 25 inclusive
Would you like to change the way you see the world?
Would you like to open your taste to new flavors, your senses to new sensations, your mind to transcendent knowledge and learn to live the slow slow life but without ceasing to enjoy?
As a great sage said, "Fast food, fast life, fast sex, fast death"
Let's go back to slow slow!
We have the ideal program for you
For 40 days, in Cabopino, Marbella, in a super select environment (and with a reduced number of attendees, complying with all safety regulations).
We offer a TRANSFORMATIONAL program of 40 DAYS, without interruptions.
OPTIONAL ACCOMMODATION
You can stay if you wish and if you cannot come to the day program.
AYUR VEGAN MENU
We offer delicious and super healthy menus based on Ayurveda and vegan!
During the program the food will be ashrama style.
YOGA CLASSES
Yoga classes in different styles so that you work in an integral way. Sometimes in the studio and sometimes on the beach.
TALKS
Inspirational talks that will help you grow mentally and spiritually.
WORKSHOPS
Varied workshops on cooking, art therapy, breathing, meditation, mantras, Ayurveda and much more.
MUSIC
Music is food for the soul. We will have concerts and gong baths that will make us forget all our miseries.
FORMS OF PARTICIPATION
You can participate in this beautiful program from one day to complete retirement. Do not hesitate to ask us all the questions you have.
info@anandalaie.com
Whattsapp: 621 20 96 40
www.anandalaie.com
Español:
GRAN RETIRO ABIERTO 40 DÍAS TRANSFORMACIÓN
15 de febrero al 25 de marzo inclusive
¿Te gustaría cambiar la forma como ves el mundo?
¿Te gustaría abrir tu gusto a nuevos sabores, tus sentidos a nuevas sensaciones, tu mente a conocimientos trascendentes y aprender a vivir la vida slow slow pero sin dejar de disfrutar?
Como dijo un gran sabio, "Fast food, fast life, fast sex, fast death"
¡Volvamos al slow slow! 
Tenemos el programa ideal para ti 
Durante 40 días, en Cabopino, Marbella, en un ambiente súper selecto (y con número reducido de asistentes, cumpliendo todas las regulaciones de seguridad).
Ofrecemos un programa TRANSFORMACIONAL de 40 DÍAS, sin interrupciones. 
ALOJAMIENTO OPCIONAL 
Puedes alojarte si lo deseas y si no puedes venir al programa diurno.
MENÚ AYUR VEGAN 
Ofrecemos unos menús deliciosos y súper sanos basados en el ayurveda y veganos!
Durante el programa la comida será estilo ashrama. 
CLASES DE YOGA 
Clases de Yoga en diferentes estilos para que trabajes de forma integral. A veces en el estudio y a veces en la playa. 
CHARLAS
Charlas inspiracionales que te ayudarán a crecer mental y espiritualmente. 
WORKSHOPS 
Talleres variados sobre cocina, arteterapia, respiración, meditación, mantras, ayurveda y mucho más.
MÚSICA 
La música es un alimento para el alma. Tendremos conciertos y baños de gong que nos harán olvidar todas nuestras miserias. 
FORMAS DE PARTICIPACIÓN
En este hermoso programa podrás participar desde un día, hasta el retiro completo. No dudes en consultarnos todas las dudas que tengas.
info@anandalaie.com
Whattsapp: 621 20 96 40
www.anandalaie.com