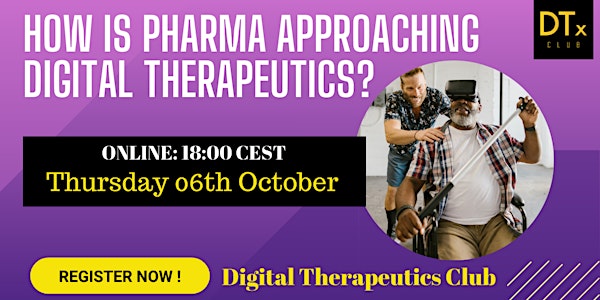 How is Pharma approaching Digital Therapeutics?
LIVE ! - ONLINE
About this event
The DTx Club returns with a new live event !
No matter if you are looking to get some insights about innovative solutions in healthcare or you are leading the Digital Health space in your company. Join us for a ride about opportunities in Digital Therapeutics (Dtx).
Dtx is growing and expanding quickly on a global scale.
Investments in Digital Therapeutics solutions are growing exponentially in the next few years, becoming that way the hottest topic in the Digital Health space.
Pharmaceutical companies are engaging more and more and there are many aspects still uncertain in the opportunities and possible strategies.
From DTx Club we want to know the vision of two experts who are already working on it:
- How is DTx affecting the company's digital health strategy?
- What are the main barriers that pharma finds to adopt these new solutions?
- What synergies and partnerships are of greatest interest right now?
- What therapeutic areas have the greatest short-term potential?
- What are the most important skills in the people of your team to work in a successful DTx?
During this session, we discuss how pharma is starting to adopt these solutions and to accompany us in this journey, we have with us Anabel León and Marta Solé, respectively, the Digital Lead at Bayer Spain and Associate Director of Digital Health at Accord Healthcare.
Don't miss it, we are happy to see you soon!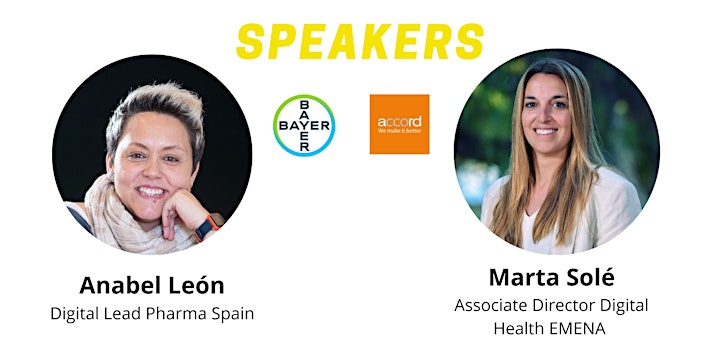 AGENDA
* 18:00 - Joining DTx Club event
* 18:05 - My vision - Anabel León, Bayer
* 18:20 - My vision - Marta Solé, Accord Healthcare
* 18:35 - Q&A session
* 19:00 - End