About this Event
Connected products and the so-called Internet of Things (IoT) has been receiving a lot of press in recent years. This workshop is designed to explain why IoT needs to be an essential part of a product companies' strategy, how to realize that product development, and how to access the business and customer benefits that it brings.
We bring together world leading companies to support you in navigating the IoT development challenge, using real examples. Microsoft, Qualcomm, Fen technology and Carnell will tell the story from early specifications through the development cycle, all the way to managing product on the field.
We are hosting 1-2-1 consultation surgeries with world-class development specialists covering most electronics technologies in most market sectors.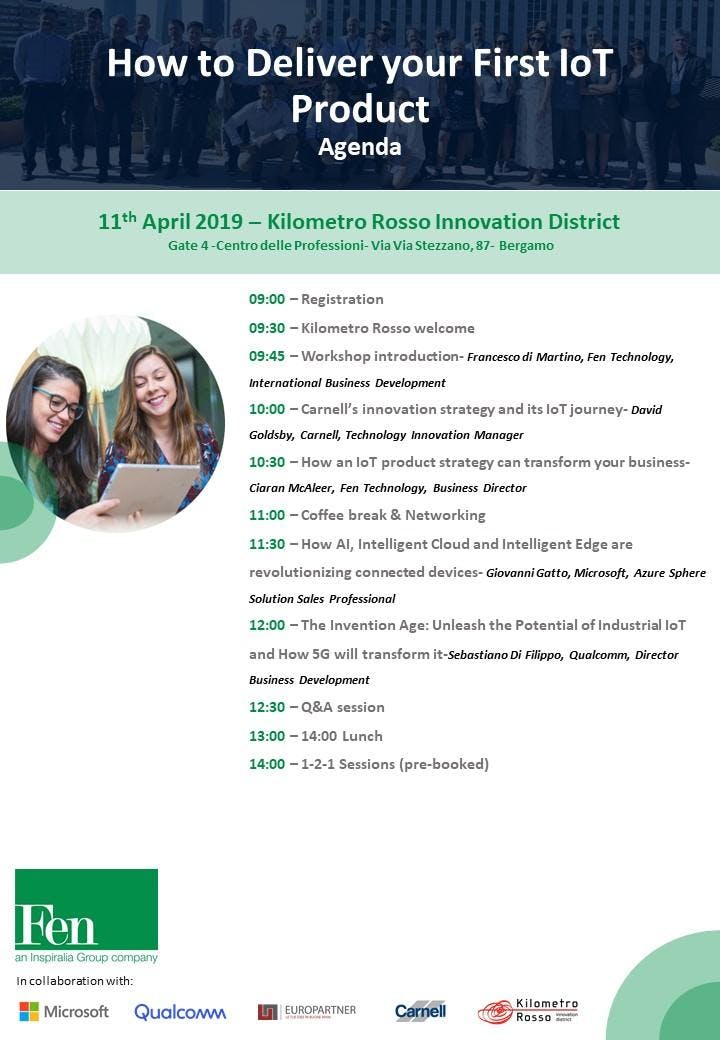 Organizers: Fen Technology supported by Kilometro Rosso and Europartner.
-Fen Technology Ltd
Fen Technology is an innovative electronics design consultancy based in Cambridge UK. Fen Technology solves complex product challenges with cutting-edge electronics solutions at any stage in the product lifecycle.
It specialises in IoT, instrumentation and high-power electronics. It provides outsourced, end-to-end electronics hardware and software design, new product development and technical consultancy to businesses of all sizes and sectors.
Fen Technology is an Inspiralia Group company.
https://www.fentechnology.co.uk/
-Kilometro Rosso Spa
Kilometro Rosso is among the major innovation districts in Europe. Kilometro Rosso is here Business and Research meet: located in the heart of Lombardy Region, it brings together companies, universities and research centers, in order to foster innovation processes in the manufacturing industry. The innovation district hosts 55 companies on over 400.000 m2, including 1.700 staff & researcher.
-Europartner Group
The Europartner Group has offices in Milan, Brescia and Genoa and has been supporting companies in their investment projects for over 25 years. Europartner is accredited to Lombardy Region for vouchers on the development and drawing up of business plans concerning business ventures in foreign countries (EMB accreditation – Export Business Manager). The Group is also accredited to MISE (Ministry of Economic Development) as a provider of TEM (Temporary Export Manager) vouchers.
For more information, please contact:
-Francesco di Martino, Fen Technology
francesco.martino@fentechnology.co.uk +34 618 043 156
-Edoardo Lucini, Europartner Milan;
e.lucini@europartner.it +39 02 66 721 81