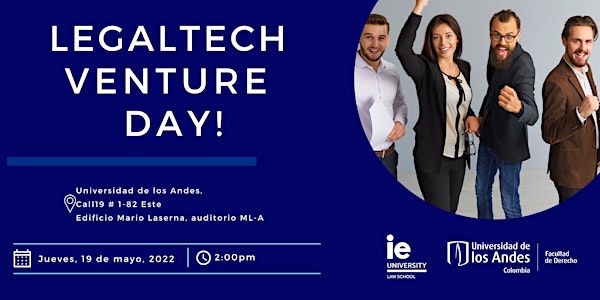 IE University & Uniandes Legaltech Venture Day
Face-to-Face Legal Venture Day in Bogotá
When and where
Location
Universidad de los Andes Calle 19 A # 1-82 Este. Edificio Mario Laserna, auditorio ML-A Bogotá, -- Colombia
About this event
IE University Law School y la Universidad de los Andes se complacen en invitarles al Global Legaltech Venture Day – Bogotá 2022, que tendrá lugar el 19 de mayo de 2022. ¡Marquen sus calendarios!
En esta competición, un grupo de startups de Legaltech seleccionadas se presentará ante un panel de jueces, innovadores, expertos en legaltech y socios de firmas de abogados líderes, que analizarán la viabilidad de los proyectos y seleccionarán un ganador.
Los finalistas seleccionados de los Global Legaltech Venture Days de Lisboa, Bogotá y Madrid tendrán la oportunidad de presentar sus proyectos a una audiencia seleccionada compuesta por inversionistas, VC, mentores y pioneros legales y empresariales en Madrid, España en el South Summit, el día 9 de junio de 2022.
Si eres una startup que trabaja en el desarrollo de soluciones, mejorando sustancialmente el funcionamiento normal de los sistemas y actores legales, ya sean públicos o privados, con un enfoque en el bien común, ¡no dejes de participar en este Global Legaltech Venture Day!
Si quieres PARTICIPAR CON TU STARTUP regístrate aquí. La convocatoria para aplicar está abierta hasta el día 7 de mayo de 2022.
¡Te esperamos!
Agenda
14:00 - 14:30 | Ingreso y registro de participantes
14:30 - 14:45 | Bienvenida Soledad Atienza, decana de IE Law School y Eleanora Lozano, decana de la facultad de Derecho de la Universidad de los Andes
14:45 - 15:10 | Keynote Speaker: Daniel Acevedo EY Law Latam North | Legal Operations Services Leader. EY Law Latin America North
15:10 - 16:10 | Startup Competition. Jury members:
Fernando Torres Varela. Lexia Abogados
Angélica Flechas: Háptica
Silvia Barbosa: LEGIS Product owner LEGIS (TBC)
Juanita Acosta. Dentons &Dentons
Camilo Gomez. Ceo Phylo Legal
Moderadora: Alexandra Baquero Neira. Sigma
16:10 - 16:20 | Receso
16:30 – 17:30 | Roundtable: Management Software Innovation and Contract Digitisation: Diálogo sobre las implicaciones del diseño de software y digitalización de contratos en Colombia, su uso práctico, ventajas y desventajas, y como se complementa con otras áreas.
Bibiana Martínez Camelo, Bancolombia, Head of Legal Trans. And Innovacion
Sara Bustamante : Doclick, cofundadora y CEO Doclick
Francisco Londoño: Londoño Villarreal Abogado, Parter - ok
Andrés Laserna. Manager regional para Latam y España Legito
Moderadora: Maria Lorena Florez Rojas. Profesora y Directora GECTI, Facultad de Derecho
15:30 – 17:50 | Anuncio del ganador y entrega de premio.
18:00 – 19:00 | Networking cocktail