Sales Have Ended
Ticket sales have ended
Žal vstopnice za obisk Igrišča niso več na voljo.
Sales Have Ended
Ticket sales have ended
Žal vstopnice za obisk Igrišča niso več na voljo.
Je mogoče obsežno strokovno znanje nepridobitnega menedžmenta predstaviti v 14-ih metaforah in to v pičlih treh urah?
About this event
Je. V zadnjih 22 letih sem si nabrala precej izkušenj iz vodenja nepridobitnih organizacij (NPO). Te izkušnje delim z vami v svojem priročniku Igrišče, na treningih ter delavnicah v živo in prek spleta.
Vabim vas, da se udeležite tokratnega zoom treninga, v katerem bomo obravnavali najpomembnejša fokusna področja:
- poslanstvo in vizija NPO;
- zakonodaja, ki jo morajo poznati NPO;
- kreativnost oz. kako pridobivamo ideje;
- programi vs. projekt oz. kako se odločamo o naši vsebini
- načrtovanje proračuna,
- pridobivanje in ohranjanje človeških virov,
- usposabljanje zaposlenih in prostovoljcev,
- odnosi z javnostmi za NPO,
- zbiranje sredstev,
- deležniki organizacije in konkurenca,
- upravljanje z vašim časom in energijo,
- delo z upravnim odborom,
- osnovne potrebe udeleženih ter
- etična načela dela v NPO.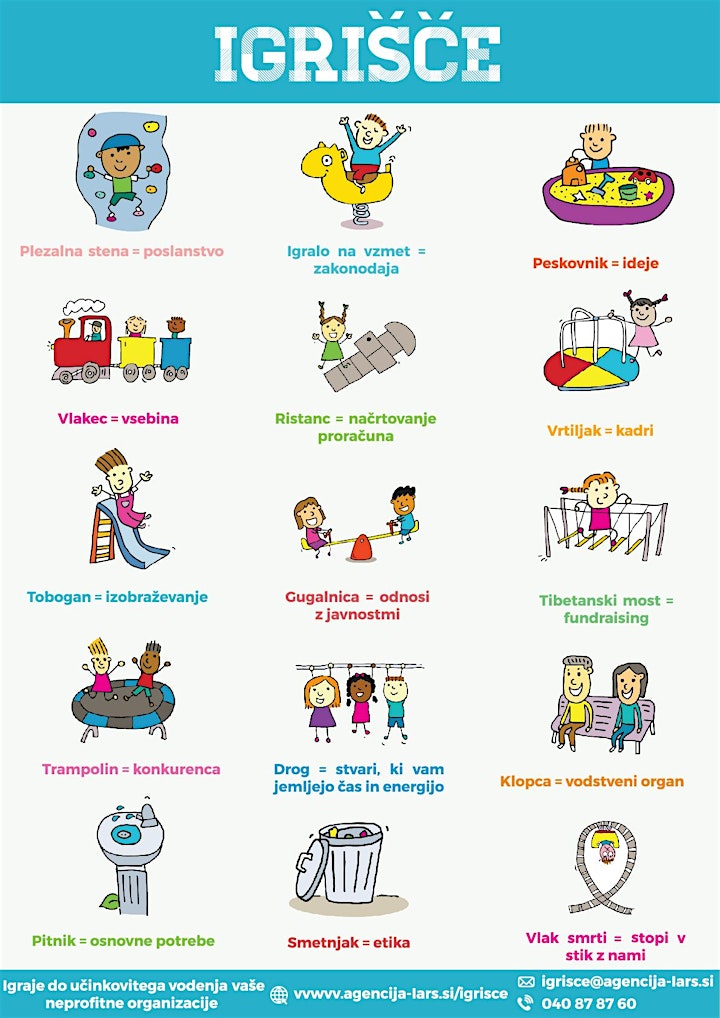 Čas, ki ga bomo preživeli skupaj, bomo porabili za odprto in iskrivo debato o težavah, s katerimi se srečujemo kot neprofitni menedžerji.
Trening je primeren za vodje nepridobitnih organizacij - občin, bolnišnic, šol in drugih javnih zavodov, društev in zvez društev, zasebnih zavodov in ustanov.
Traja 3 ure.
Vabljeni!
Organiser of Igrišče - Igraje do učinkovitega vodenja vaše neprofitne organizacije