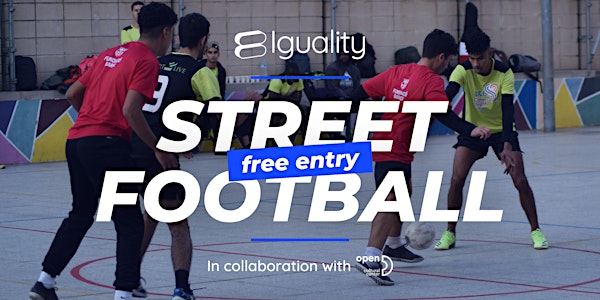 Multiple dates
Iguality Street Football
Join us for our weekly (cost-free) street football training and match! Anyone can join in our effort to bring diverse communities together.
Date and time
January 17 · 6:50pm - June 27 · 8pm CET
Location
Carrer de l'Abat Safont, 4, Barcelona Carrer de l'Abat Safont, 4 08001 Barcelona Spain
About this event
Every week, we play street football on a paved pitch in the center of Barcelona. Anyone can sign-up for a session, as long as the we are not full for the evening. You can come every week, or you can join just now and then. However, we recommend to come more often to get to know the different players, and improve your own play!
Where do we play?
At the moment, we play in Raval, at the pitch of the Ajuntament de Barcelona. You can find the Google Maps location here. Once you arrive, Vincent and/or Carlos will be there to receive you and tell you where we play exactly.
Who can join?
Anyone who likes football! However, please note that street football can be quite intense and also quite tiring. Of course, if you get tired or you want a break, that's totally fine. We are there to have fun and to build a community of football enthusiasts, nothing else!
What do you need?
You will need some sport shoes, ideally that have some grip for the concrete field. Apart from that, any clothes that you can move easily in would be sufficient. If you need, you can also bring some water and food.
Important information
Please read all information about Iguality's sports activities over here, including safety and security guidelines and regulations, which includes the policies of all Iguality's activities. By participating, you acknowledge and understand our policies.
----
This event is organised by Iguality, a registered nonprofit organisation in Barcelona. The event is made in collaboration with Open Cultural Center and its MigraCode program. More information about OCC can be found at https://www.openculturalcenter.org.
About the organizer
Iguality is a registered non profit organisation in Barcelona, Spain. We strongly believe that mental health care should be accessible to all members of society, which is why we offer free mental health services to individuals and communities that face marginalisation and precarity.