Sales Have Ended
Registrations are closed
Thank you!!
Sales Have Ended
Registrations are closed
Thank you!!
Join us in this IMPACT EdTech Info Day to learn more about the importance of supporting EdTech for education.
About this event
The Impact EdTech Info Days are online events aiming at informing IMPACT EdTech stakeholders (mainly policy-makers, investors, innovation hubs but also practitioners and other compatible initiatives and organisations) about the importance of supporting educational technologies, both from a pedagogical and business perspective.
SESSION 1: IMPACT SUCCESS STORIES
The 1st IMPACT EdTech Info Day will start with a pre-lunch (11:00-12:00 CEST) session on the aims and benefits of the IMPACT EdTech project, during which the audience will be introduced to a few success stories coming from companies (start-ups) who have already benefited from the IMPACT programme.
SPEAKERS: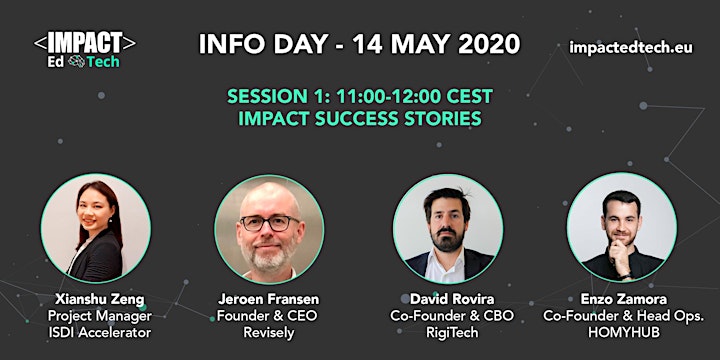 SESSION 2: THE ROLE OF EDTECH IN EDUCATION
The event will continue with a pm session (16:00-17:00), which will open the floor to a wider discussion about the role of EdTech in education, bringing together policy-makers, practitioners and other stakeholders who will put forward the viewpoint of EdTech end users.
SPEAKERS: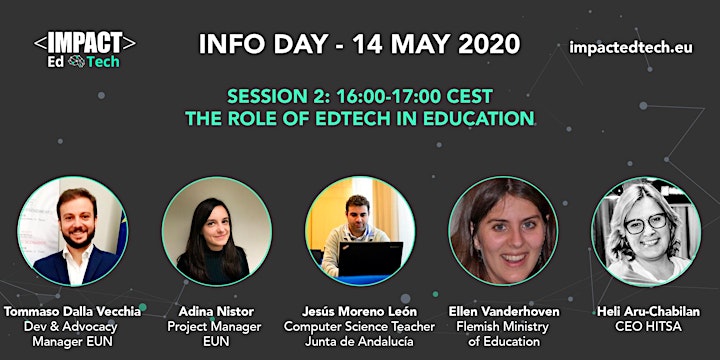 IMPACT EdTech is a start-up incubator-accelerator implemented by the IMPACT EdTech consortium within the Horizon2020 programme of the European Commission (EC), under Grant Agreement number 871275. Through its two open calls, IMPACT EdTech will support a total of 42 European disruptors with almost 6M€ plus acceleration and mentoring services to bring their digital education innovations into the market. The first IMPACT EdTech Open Call will remain open between 6 April 2020, 10:00 CEST and 30 June 2020, 13:00 CEST. Up to 21 selected companies will have the chance to participate in the first 9-months incubation-acceleration cycle of IMPACT EdTech, during which they will be supported in developing the design of products by engaging with targeted end-users and education experts, following a 'pedagogy-first' approach.