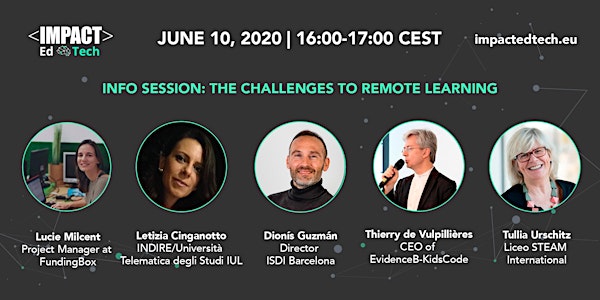 IMPACT EdTech Info Session - The challenges to remote learning
Join us in this IMPACT EdTech Info Session to learn more about how to engage learners when teaching online.
About this event
About this Event
The IMPACT EdTech Info Sessions are online events aiming at informing EdTech stakeholders about the importance of supporting educational technologies, both from a pedagogical and business perspective.
In the session of the 10th of June, we will speak about the main challenges that schools face during the COVID crisis, such as the engagement of learners, the accessibility for learners with special needs, the lack of digital skills and more.
Our experts for this session are:
Lucie Milcient - Project Manager at FundingBox, who will be moderating the session.
Letizia Cinganotto – Researcher in Università Telematica degli Studi IUL, Italy
Dionis Guzmán - Director at ISDI Barcelona
Thierry de Vulpillières - CEO at EvidenceB-KidsCode
Tullia Urschitz - STEM Teacher at STEAM international
IMPACT EdTech is a start-up incubator-accelerator implemented by the IMPACT EdTech consortium within the Horizon2020 programme of the European Commission (EC), under Grant Agreement number 871275. Through its two open calls, IMPACT EdTech will support a total of 42 European disruptors with almost 6M€ plus acceleration and mentoring services to bring their digital education innovations into the market. The first IMPACT EdTech Open Call will remain open between 6 April 2020, 10:00 CEST and 30 June 2020, 13:00 CEST. Up to 21 selected companies will have the chance to participate in the first 9-months incubation-acceleration cycle of IMPACT EdTech, during which they will be supported in developing the design of products by engaging with targeted end-users and education experts, following a 'pedagogy-first' approach.