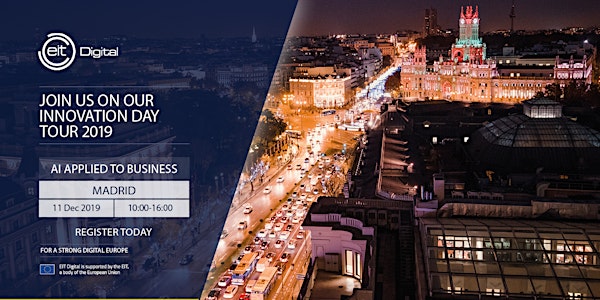 Innovation Day 2019
Artificial Intelligence Applied to Business
When and where
Location
EIT Digital Madrid Campus Montegancedo Edificio IMDEA Software 28223 Pozuelo de Alarcón Spain
About this event
***** FULLY BOOKED - ONLY INVITATION*****
A big thank you to everyone who has signed up for our Innovation Day. The interest in the event has been incredible! Unfortunately, we are now fully booked, please request an invitation here: madrid@eitidigital.eu or join the waiting list.
We look forward to seeing you soon!
****************************************************
The AI is the technology called to change the world, from health, to security, to space exploration, even to human relations. However, its deployment still faces a set of social and business challenges with unknow impact. Our Innovation Day will provide an insight for the future using examples of industrial and business AI applications.
The EIT Digital Spain Innovation Day 2019 will also allow for an overview of our recent achievements, with focus on Spain, as well as an outlook of the future prospective in the context of the Strategic Innovation Agenda. A high-level Panel will involve key actors from the national and regional governments, and from the Spanish innovation ecosystem, to reflect upon the opportunities and challenges related to digital innovation. The Innovation Day is inspiring, exciting and informing. It will also provide you with a great opportunity for networking with attendees from a diverse range of organizations working in the digital ecosystem, representing large corporates, SMEs, investors, leading technical universities and research institutes.
Programme
10:30 - 11:00 Registry & Coffee
11:00 - 11:10 Welcome, Jesus Contreras, EIT Digital Spain Node Director
11:10 - 11:30 Topic TBA, Francisco Carvajal, Accenture Sr. Executive Partner
11:30 - 11:50 Topic TBA, Richard Benjamins, Telefonica Data & AI Ambassador
11:50 - 12:10 Topic TBA, Manuel Carro, IMDEA Software Director
12:10 - 12:30 Coffee Break
12:30 - 12:50 Synerise Company Presentation, Krzysztof Blusz, Synerise Global Expansion Director
12:50 - 13:10 e-FLY Drones Activity Presentation, Clara Pezuela, ATOS Innovation Hub Manager
13:10 - 13:30 Innovation Factory EIT Digital, Antonio García-Hortal, Innovation Leader EIT Digital
13:30 - 15:00 Lunch
15:00 - 15:20 Topic TBA, Asunción de María Gómez-Pérez, UPM Vicerector for Research, Innovation and Doctoral Studies
15:20 - 15:55 Round Table, Francisco Carvajal, Richard Benjamins, Manuel Carro, Asunción de María Gómez-Pérez
15:55 - 16:00 Wrap-up & Farewell, Jesús Contreras, EIT Digital Spain Node Director