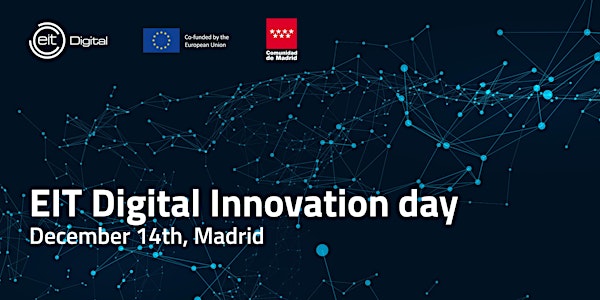 When and where
Location
Espacio Madrazo Calle de los Madrazo, 8 28014 Madrid Spain
About this event
The EIT Digital Innovation Day 2022 Spain presents our services to all partners to boost their innovation with funding, knowledge and ecosystem for the upcoming year. Learn how to prepare a successful proposal for your organization, how to attract dep-tech start-ups, or how to create a new business unit.
The Innovation Day is inspiring, exciting and informing. It will also provide you with a great opportunity for networking with attendees from a diverse range of organizations working in the digital ecosystem, representing large corporates, SMEs, investors, leading technical universities and research institutes.
AGENDA
10:30 -11:00 Registration & Welcome coffee
11:00 -11:15 Welcome
11:15 - 11:45 Innovation with EIT Digital in 2023
11:45 - 12:15 Coffee Break
12:15 -13:30 Arte + Tecnología = La Educación para un mundo mejor
13:30 -15:00 Lunch
15:00 -15:05 Welcome
15:05 -16:00 Next Generation Funds
16:00 -16:30 Coffee Break
16:30 -17:15 IPR Protection
17:15 -17:30 Closing
PARKING
ALSE PARK - C. de Alcalá, 27 (140 m. al Espacio Madrazo)
PARKING de las CORTES - Pl. de las Cortes s/n (450 m. al Espacio Madrazo)
PARKING APK2 Plaza del Rey - Pl. del Rey s/n (550 m. al Espacio Madrazo)

Actividad del Proyecto "OI2018-EIT-DIGITAL-SPAIN" de Ref.: OI2018/EITDIGITAL-5188, concedido en la Convocatoria 2018 de ayudas para potenciar la innovación tecnológica e impulsar la transferencia de tecnología al sector productivo comprendido en las prioridades de la Estrategia Regional de Investigación e Innovación para una especialización inteligente (RIS3) de la Comunidad de Madrid a través de entidades de enlace de la innovación tecnológica, cofinanciado en un 25% por el Fondo Europeo de Desarrollo Regional y en otro 25% por la Comunidad de Madrid en el marco del programa operativo FEDER 2014-2020.Activity of the Project "OI2018-EIT-DIGITAL-SPAIN" of Ref.OI2018/EITDIGITAL-5188, Acronym EITDIGITAL, granted in the 2018 call for proposals to promote technological innovation and technology transfer to the productive sector included in the priorities of the Regional Strategy for Research and Innovation for Smart Specialisation (RIS3) of the Community of Madrid, through technological innovation liaison entities co-financed 50% by the Community of Madrid and the European Regional Development Fund within the framework of the ERDF 2014-2020 operational programme of the Community of Madrid.