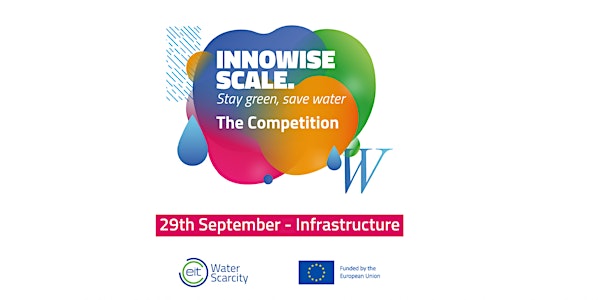 InnoWise Scale Competition on Water Scarcity: Infrastructure's case study
Fostering innovation and entrepreneurship: Infrastructure's case study
About this event
InnoWise Scale supports innovators working on disruptive products or services enabling a better water management, optimising water supply and demand, and fostering climate change readiness of the European economy.
The InnoWise Scale activities have been shaped around 3 case studies on water management in the agriculture, infrastructure and water utilities sector, bringing together problem holders with solution providers. The final goal of the InnoWise Scale activities is to accelerate the market uptake of the green solutions in Europe.
The Innowise Scale competitions are the final step after a 3 month of mentoring, training, and networking opportunities between problem holders and solution providers.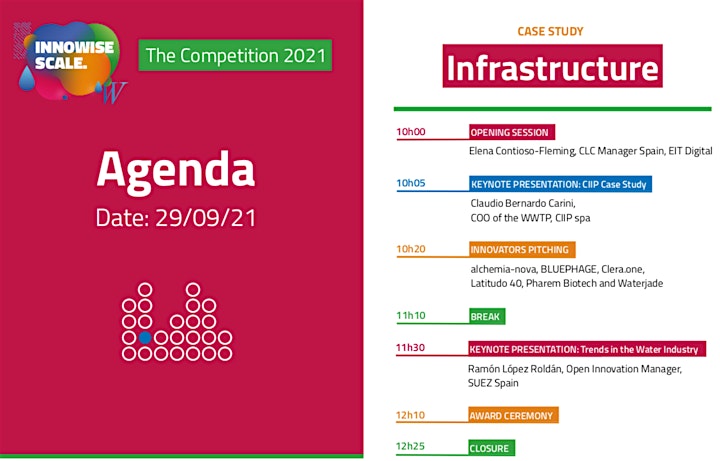 The Event: Water management in water utilities and large infrastructures
This event is one in a series of three. It brings together 6 solution providers, with already developed or close-to-market solutions contributing to better management of water resources in infrastructure.
Winners of the competitions will be granted with 12,000 euros (1st prize), 10,000 euros (2nd prize) in equity-free cash, to be used for scaling up their businesses.
Moreover, there will be a special of 30,000 euros for testing purposes. This prize will be granted to the solution provider that better addresses the needs of the end user: CIIP Spa - Cicli Integrati Impianti Primary (Italy).
Meet the participants
The problem holder: CIIP Spa - Cicli Integrati Impianti Primary.
This company is managing the water and wastewater service of 59 municipalities in the South area of Marche region (central Italy), from Adriatic coast to the Apennines.
The Solution Providers:
Agenda