About this Event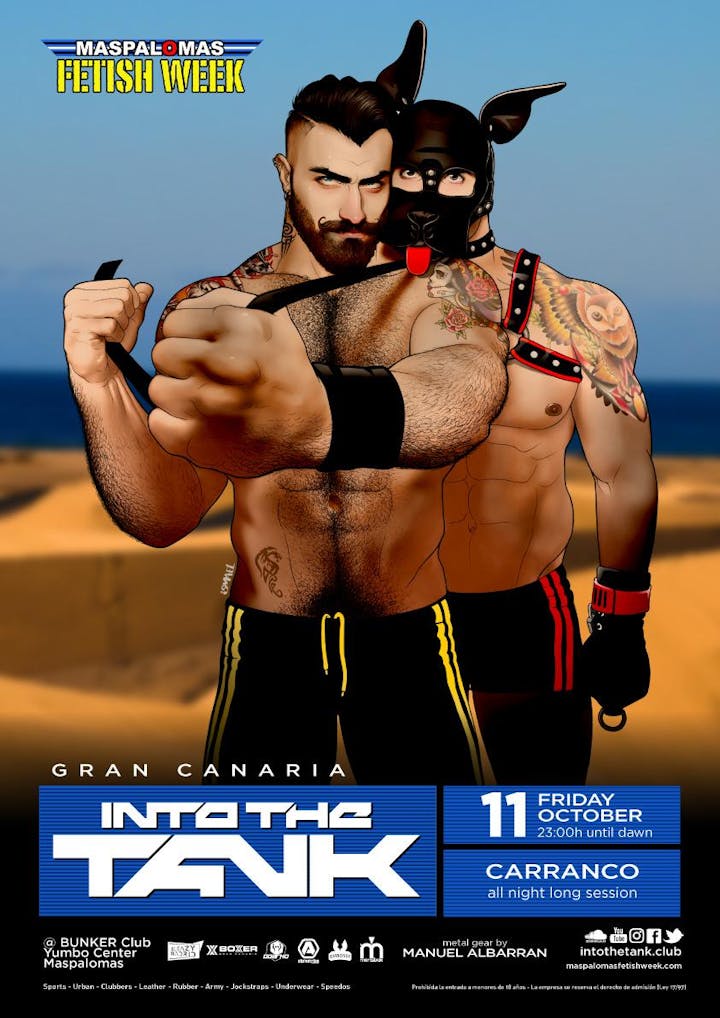 ( ...en Español debajo, ver más...)
▬▬▬▬▬▬▬▬▬▬▬▬▬▬▬▬▬▬▬▬▬▬▬▬▬
★★★ INTO THE TANK - GRAN CANARIA ★★★
FRIDAY 11 OCTOBER (Maspalomas Fetish Week 2019)
▬▬▬▬▬▬▬▬▬▬▬▬▬▬▬▬▬▬▬▬▬▬▬▬▬
This year 2019, INTO THE TANK, is also part of MASPALOMAS FETISH WEEK (4-13 October) as a MAIN OFFICIAL PARTY so come to Bunker Club to celebrate it along with hundreds of men looking for great music and masculine action. From the spectacular dance floor, main space of the event, it will flow the most exciting atmosphere of the party, and soon you´ll learn how to let yourself go by everything that happens around you. Our resident dj CARRANCO, will guide the session all night long making you vibrate with their powerful and hypnotic techniques that will excite you without realizing with that unique and INTO- SOUND !!
Metal gear by MANUEL ALBARRAN
Full equipped extra-playrooms and labyrinths in the mazes and terrace. Men only, masculine attitude. In short, you must not miss this new edition of INTO THE TANK Gran Canaria, the iconic fetish event par excellence of southern Europe. A great occasion to unleash your darkest and deepest side. Just pick your favourite fetish outfit and get into the dance-floor, everything else will happen. Sports Kit, Club Wear, Leather, Urban, Army, Jockstrap, Naked, Topless, Underwear, etc.
XXX & XXX on the stage.
Sports - Urban - Clubbers - Leather - Rubber - Army - Jockstraps - Underwear - Swimming Trunks - Speedos
23:00h until dawn, tickets : 12€ including a drink
@ BUNKER Club, Yumbo Center (ground floor),
Avda Estados Unidos 37, 35100 Maspalomas, Gran Canaria
http://www.intothetank.club
https://www.facebook.com/intothetank
https://www.instagram.com/intothetank
https://www.twitter.com/intothetankclub
https://www.youtube.com/intothetankclub
https://www.soundcloud.com/intothetankclub
░░░░░░░░░░░░░░░░░░░░░░░
▬▬▬▬▬▬▬▬▬▬▬▬▬▬▬▬▬▬▬▬▬▬▬▬▬
★★★ INTO THE TANK - GRAN CANARIA ★★★
VIERNES 11 OCTUBRE (Maspalomas Fetish Week 2019)
▬▬▬▬▬▬▬▬▬▬▬▬▬▬▬▬▬▬▬▬▬▬▬▬▬
En este año 2019, INTO THE TANK, también forma parte de MASPALOMAS FETISH WEEK (4-13 October) como FIESTA OFICIAL PRINCIPAL, asi que vente a Bunker Club a celebrarlo junto con cientos de hombres que buscan buena música y acción masculina explicita. Desde la espectacular pista de baile, el espacio principal del evento, fluirá la atmósfera más emocionante de la fiesta, y pronto aprenderá a dejarte llevar por todo lo que sucede a tu alrededor. Nuestro dj residente CARRANCO guiará la sesión toda la noche haciéndote vibrar con sus potentes e hipnóticas técnicas al mismo tiempo que emocionándote con su estilo INTO-SOUND !!!
Metal gear by MANUEL ALBARRAN
Salas para juegos y laberintos completamente equipados en el sótano y terraza. Solo hombres, actitud masculina. En definitiva, no debes perderte esta nueva edición de INTO THE TANK GRAN CANARIA, la fiesta icono fetish por excelencia del sur de Europa. Una ocasión muy adecuada en donde dar rienda suelta a tus morbos visuales más excitantes.
Sólo tienes que elegir tu atuendo fetish favorito y lanzarte a la pista de baile, todo lo demá sucederá después. Ropa de Deporte, Urban, Clubbers, Leather, Rubber, Army, Suspensorios, Underwear, Bañadores, Speedos, Desnudos, etc
23:00h hasta el amanecer - tickets : 12€ incluyendo consumición
@ BUNKER Club, Yumbo Center (ground floor),
Avda Estados Unidos 37, 35100 Maspalomas, Gran Canaria
http://www.intothetank.club
https://www.facebook.com/intothetank
https://www.instagram.com/intothetank
https://www.twitter.com/intothetankclub
https://www.youtube.com/intothetankclub
https://www.soundcloud.com/intothetankclub