About this Event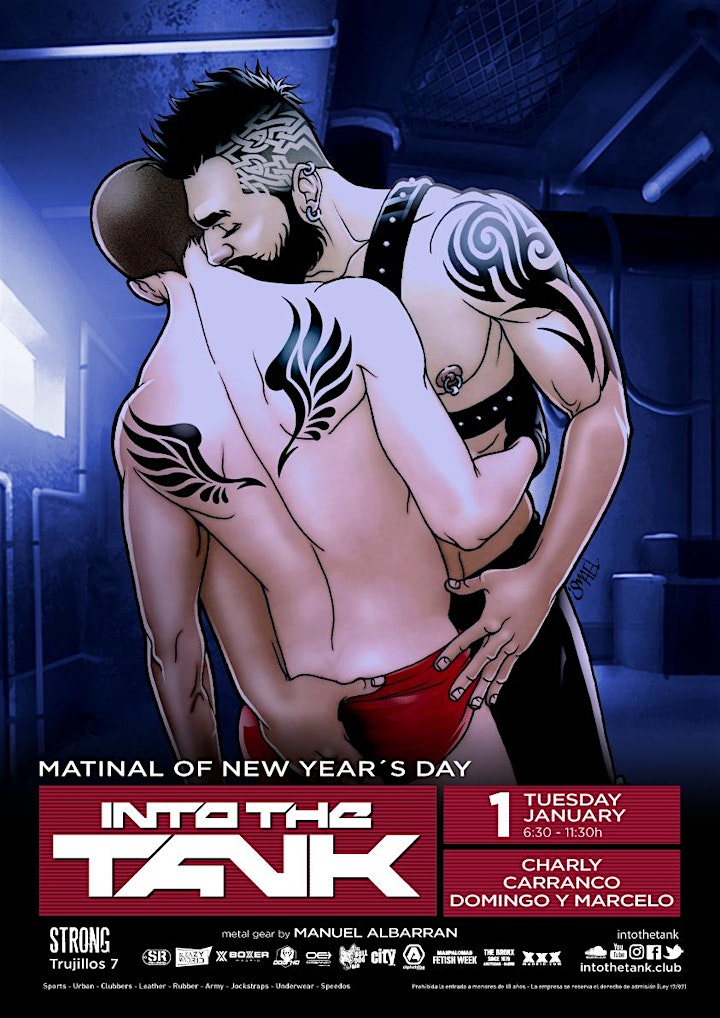 ( ... En Español debajo, ver más ... )
★★★ INTO THE TANK MADRID – (MATINAL of NEW YEAR´S DAY) TUESDAY 1st JANUARY ★★★ (@ STRONG ) ☆☆
▬▬▬▬▬▬▬▬▬▬▬▬▬▬▬▬▬▬▬▬▬▬▬▬▬
★☆★ CHARLY, CARRANCO, MARCELO Y DOMINGO ★☆★
▬▬▬▬▬▬▬▬▬▬▬▬▬▬▬▬▬▬▬▬▬▬▬▬▬
INTO THE TANK says hello to the new year coming well served with a real fetish atmosphere that will ooze out of the crowdy dancefloor, the main space of the event. Once inside all you have to do is be ready to have fun, relax, let yourself be guided by the DJs and their music and get carried away by the sexual energy. This morning CHARLY, CARRANCO, MARCELO Y DOMINGO, three of the outstanding international Djs in the main fetish circuit around Europe will have you horny and sleazy with the unique Into - Sound !!!. This first edition of the year of INTO THE TANK (iconic session for all lovers of the fetish look and masculine attitude) is not to be missed. Just pick your favourite fetish.
Sports Kit, Club Wear, Leather, Urban, Army, Jockstrap, Naked, Topless, Underwear, etc. Never stop the action !!!!!
● Advance Tickets:
▶︎ 30€
Get yours here
● On Door:
▶︎ Tickets also available more expensive, and according to availability of capacity
(All prices including access and 1 drink)
6:30 - 11:30h @ STRONG, C/ Trujillos 7, MADRID
http://www.intothetank.club
https://www.instagram.com/intothetank
https://www.facebook.com/intothetank
https://www.twitter.com/into_the_tank
https://www.soundcloud.com/intothetank
░░░░░░░░░░░░░░░░░░░░░░░░░░░░░░░░░░░
★★★ INTO THE TANK MADRID – (MATINAL de AÑO NUEVO) MARTES 1 ENERO ★★★ (en STRONG) ☆☆ ☆☆
▬▬▬▬▬▬▬▬▬▬▬▬▬▬▬▬▬▬▬▬▬▬▬▬▬
★☆★ CHARLY, CARRANCO, MARCELO Y DOMINGO ★☆★
▬▬▬▬▬▬▬▬▬▬▬▬▬▬▬▬▬▬▬▬▬▬▬▬▬
INTO THE TANK da la bienvenida al año nuevo bien servido de verdadero ambiente fetichista comenzando desde la abarrotada pista de baile, espacio principal del evento, y desde donde fluirá la ansiada atmósfera más excitante de la noche. Una vez dentro, solo quedan ganas de morbo, acción y dejarse llevar por todo lo visual y como no, por la música de los DJs que desde la cabina guiarán la sesión. En ésta ocasión CHARLY, CARRANCO, MARCELO Y DOMINGO, djs punteros en eventos y fiestas fetish internacionales serán los responsables que nos harán vibrar con sus sonidos contundentes e hipnóticos y te harán sentir caliente y excitado con su único sonido Into !!!. En definitiva, no debes perderte ésta primera edición del año de la fiesta icono fetish por excelencia del sur de Europa.
Sports – Urban – Clubbers – Leather – Rubber – Army – Jockstraps – Underwear – Swimming Trunks – Speedos - Naked .... Que no pare la acción !!!!!
● Entradas anticipadas:
▶︎ 30€
Consíguelas aqui
● En Puerta:
▶︎ Precios más caros, según disponibilidad de aforo
(Todos los precios incluyen acceso y 1 bebida)
06:30 - 11:30h @ STRONG, C/ Trujillos 7, MADRID
http://www.intothetank.club
https://www.instagram.com/intothetank
https://www.facebook.com/intothetank
https://www.twitter.com/into_the_tank
https://www.soundcloud.com/intothetank