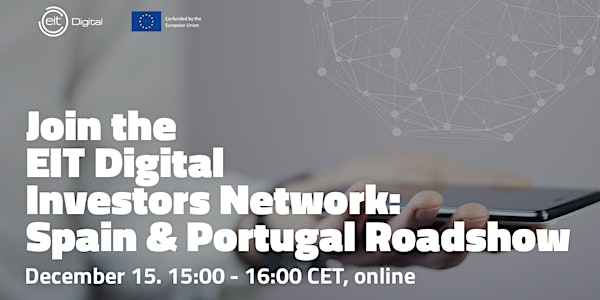 Investors Network: Spain & Portugal Roadshow
Investors Network: Spain & Portugal Roadshow
About this event
Investors Network: Spain & Portugal Roadshow
EIT Digital will be presenting the investment opportunities into its Equity Portfolio and in ventures from its Innovation Factory. Don't miss out on the opportunity to become a member of EIT Digital's Investors Network!
By joining the Investors Network, you will be able to co-invest with EIT Digital and its ecosystem of 350+ partners in promising digital activities and startups, get fast track access to other public EU investing bodies, bring entrepreneurial teams to the attention of EIT Digital for participation in our Innovation Factory​ and much more.
Agenda
15:00 - 15:15 Overview of EIT Digital and its ecosystem, Jesús Contreras (EIT Digital Node Director Spain)
15:15 – 15:45 Overview of the Innovation Factory and Equity Portfolio, Maria Costeira (EIT Digital Head of Innovation)
15:45 -16:00 Q&A
The event is free of charge but registration is required.
Looking forward to welcoming you at the event!