Description
The IoT SWC side event organized by inLab FIB will focus on new business paradigms based on IoT implementation in industry, services and daily life of citizens. Special attention will be paid on challenges that IoT will imply for SMEs and the necessary change of paradigm in their business models.
This session will be divided in 3 sections, covering relevant insights in IoT, Big Data Analytics and related Cyber Security both from EU and local perspective.
The first one will deal with the opportunities for SMEs offered by the H2020 BIG IoT project and the Barcelona Pilot. The second section will focus on added value IoT represents to the whole cycle of industrial business models. Finally, the last section will be devoted to Cyber Security, in terms of awareness, vulnerabilities and solutions.
In order to attend this event, it is required to register at the IoT Solutions World Congress. If you are not yet registered, we will provide you your Free Exhibition Pass or 50% discount Congress Full Pass together with your "IoT: New business paradigm for SMEs?" ticket.
---
First session: 09:00 - 11:00
09:00 Welcome and introduction by inLab FIB UPC (Prof. Josep Casanovas, inLab FIB UPC)
09:10 The H2020 BIG IoT project and the Barcelona Pilot (Mrs. Jelena Mitic, Siemens, Project Leader; Mr. Jordi Ortuño, Barcelona City Council; Mr. Jordi Caus, SEAT)
The H2020 BIG IoT project represents a great opportunity to understand the possibilities of exploitation of IoT. The overall goal of the BIG IoT project is to ignite vibrant Internet of Things (IoT) ecosystems, by bridging the current interoperability gap between the vertically-oriented IoT platforms and creating marketplaces for IoT service and application providers as well as platform operators. The developed technologies will be concurrently demonstrated in three regional pilots (one of them in Barcelona). Under the common themes of smart mobility, smart environment and smart road infrastructure, various use cases within the pilots will validate the developed technologies.
09:45 BIG IoT API and Marketplace (Prof. Ernest Teniente, inLab FIB UPC, and Prof. Juan Hernández, ISG UPC)
The project approaches the existing interoperability gap based on (1) a common Web interface, called the BIG IoT API, (2) semantic descriptions of resources and services, as well as (3) a marketplace as the core driver of the ecosystem, providing functionalities such as authentication, discovery and charging. The BIG IoT API will be designed in an open community process and the project consortium will engage with current standardization initiatives to receive input and deliver contributions. As part of the project, 8 smart object platforms will implement BIG IoT API, thus allowing a real and widespread exploitation of their data and application heritage. The BIG IoT Marketplace will enable different IoT providers to easily offer and monetize access to their resources as well as IoT consumers to discover and use them.
10:30 Join BIG IoT: The Open call! (Mrs. Eleonora Panto, CSP)
A Europe-wide Open Call will be conducted as part of the project to engage SMEs in the implementation of services, applications, and platforms conforming with the BIG IoT approach. The speaker will give you more information about the call and will tell you how you could contribute to the BIG IoT project and receive EU funding for your work.


11:00 - 11:30 Networking breakfast (offered by the H2020 BIG IoT Project)
Second session: 11:30 – 12:15
Modelling and Simulation for Industry 4.0 – round table on opportunities and challenges in the new era of IoT.
Moderator: Mrs. Iwona Maryla Maciejewska, inLab FIB UPC.
Participants: Mr. Benito Cerrillo (Vicedean of New Industrialization in Informatics Engineering Professional Association of Catalonia), Prof. Ernest Teniente and Prof. Josep Casanovas, inLab FIB UPC.
Global competition in advanced manufacturing and industry engineering is becoming fiercer and fiercer. Nowadays, the introduction of IoT and IoS (Internet of Services) represents many opportunities, as well as challenges for the use of modelling and simulation in big and small industry.
Third session: 12:15 – 13:00
Cyber Security – awareness, vulnerabilities and solutions (Prof. Manel Medina and Mrs. Iwona Maryla Maciejewska, inLab FIB UPC)
The growth of IoT business, thanks to the reduction of costs of integration of Cyber-Physical Systems (CPS) in ICS (Industrial Control Systems) and intelligent buildings, making accessible from the global network their machinery, warehousing system, productions facilities, and even healthcare wearable devices. Since those devices have the capability to interact with the physical world, hacking them (gaining unauthorised access) may result in irreversible damage to buildings, production or storage facilities and even human bodies. Safety and security of these assets are important to ensure company's operational capacity, as well their market position.
Cyber Security resilience of IoT interfacing devices has to be promoted through awareness campaigns addressed to convince users to request security capabilities on the purchased products, and developers to build and offer cybersecurity solutions addressing SMEs needs to integrate them in their products.
Those topics will be presented during this session.
---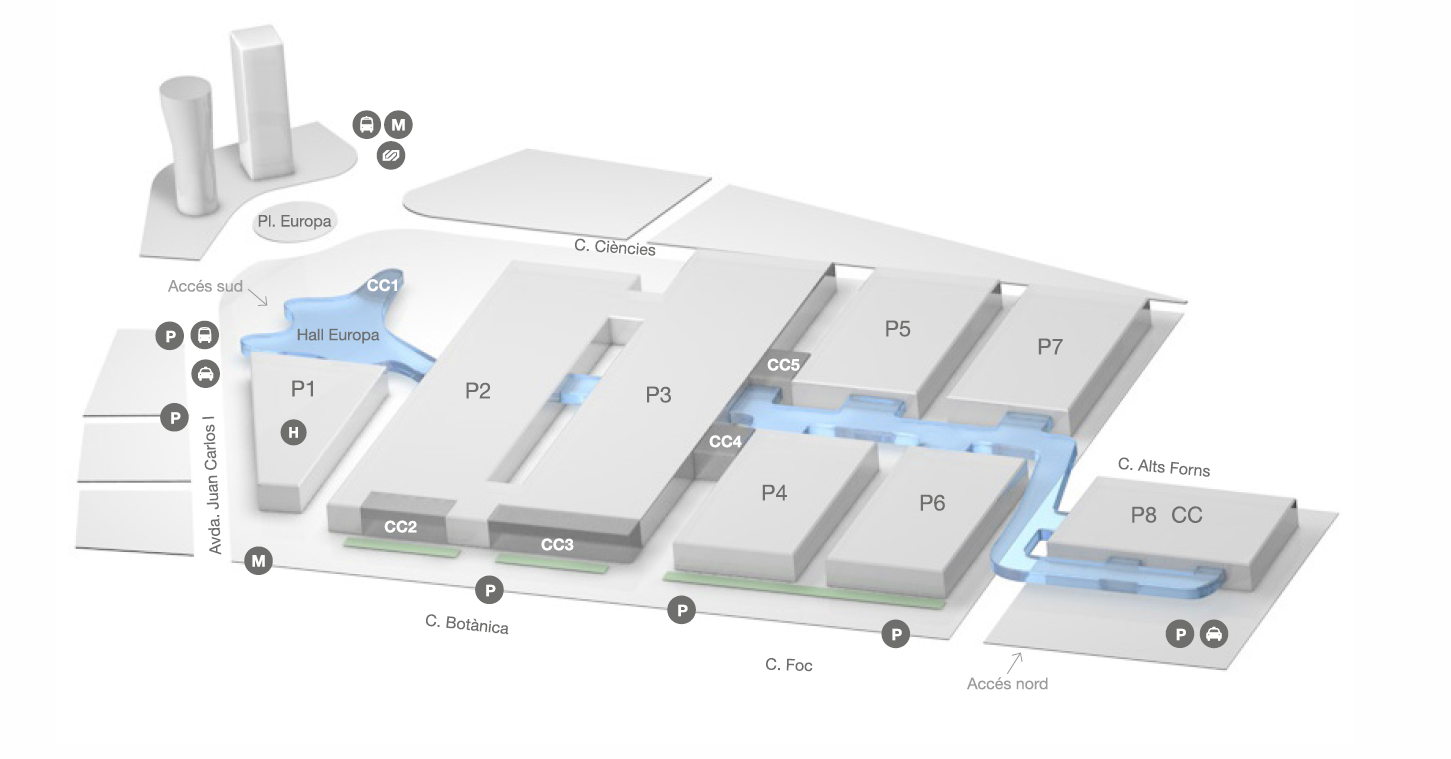 The Room 1.2 is located in the Conference Center CC1 of Fira Gran Via Venue which is located near the South Entrance, at level 1. Metro L9 Fira station takes you directly to the South Access. CC1 Room 1.2. Floorplans
Organizer of "IoT: New business paradigm for SMEs?" - IOT SWC Side Event



inLab FIB is a research and innovation laboratory of the Barcelona  School of Informatics at UPC, specialized in applications and services based on the breakthrough ICT technologies. It has over 30 years of experience collaborating in cutting- edge projects and creating customized solutions for public and private institutions and organizations.
inLab FIB UPC is a member of the UPC Technology Center (CIT UPC), which is dedicated to applying university research capabilities to innovation in business.


The BIG IoT consortium joins large companies (Atos, Bosch, Seat, Siemens, Vodafone) with experts from SMEs and research (AAU, Econais, NUIG, TUC, UPC) and public bodies (CSI Piemonte, VMZ, Wolfsburg AG), which will implement the BIG IoT API and will drive the efforts of defining it in a community process, contributing it to standardization activities, and promoting its usage.
The BIG IoT project has received funding from the European Union's Horizon 2020 Research and Innovation programme under Grant Agreement No 688038.