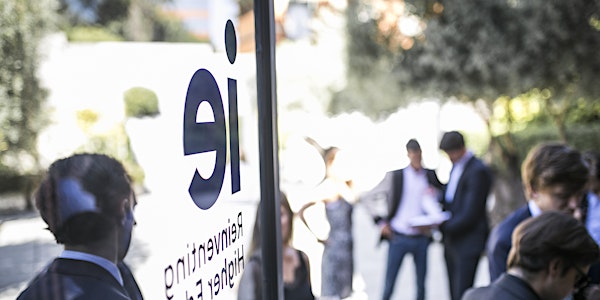 Jornada sobre la Directiva de Información No Financiera o de Sostenibilidad (CSRD)"
Evento informativo
By IE Executive Education
When and where
Date and time
Wednesday, February 22 · 10 - 11:30am CET
Location
Aula Magna C/ María de Molina, 11. 28006 Madrid Spain
About this event
En el marco de las actividades del Programa Liderazgo en Sostenibilidad y Responsabilidad Corporativa, y con motivo de la aprobación de la Directiva CSRD, el Club de Excelencia en Sostenibilidad te invita a participar en una jornada explicativa, organizada junto a IE Business School, sobre las novedades y tendencias en el reporting extrafinanciero europeo.
La publicación de la Directiva 2022/2464/UE ("Directiva CSRD") indica la modificación, entre otras, de la Directiva sobre divulgación de información no financiera (2014/95/UE) ("Directiva NFRD") con el fin de corregir algunas de las deficiencias detectadas en el reporte no financiero y ampliar el número de sujetos obligados a informar sobre cuestiones de sostenibilidad.
La Directiva CSRD tiene como objetivo equipararse, con el tiempo, al reporte de la información financiera, permitiendo al público acceder a datos que sean fiables y comparables.
No te pierdas esta jornada donde podrás conocer las implicaciones de esta directiva e informarte de datos importantes como las empresas que estarán obligadas a informar a partir de ahora.
PONENTES
Juan Alfaro, Secretario General del Club de Excelencia en Sostenibilidad y Director Académico del Programa RSC en el IE Business School
Maravillas Espín, Directora General de Trabajo Autónomo, Economía Social y Responsabilidad Social de las Empresas en el Ministerio de Trabajo y Economía Social
Carlos Sáez Gallego, Country Head Spain en Georgeson y profesor asociado al programa de Liderazgo en Sostenibilidad y RSC en el IE Business School
Ángel Fraile, Head of Sustainability Planning and Stakeholder Engagement Iberia en Endesa y profesor asociado al programa RC y Sostenibilidad en el IE Business School
Elena Palomeque Pozas, DG Financial Stability, Financial Services and Capital Markets Union, Comisión Europea
About the organizer
Designed to transfer knowledge from the classroom to the workplace, providing a superior learning experience that will impact directly on the professional development of the participants and their organizations.