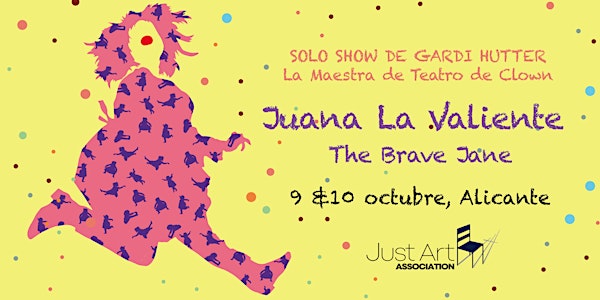 JUANA LA VALIENTE (THE BRAVE JANE) de la Maestra suiza de teatro de clown
Juana La Valiente es un show lleno de risas sin ninguna barrera del idioma, un plan perfecto para el fin de semana para toda la familia.
When and where
Location
Fundación Mediterráneo - Aula de Alicante 1 Avenida Doctor Gadea 03003 Alicante (Alacant) Spain
Refund Policy
Contact the organizer to request a refund.
Eventbrite's fee is nonrefundable.
About this event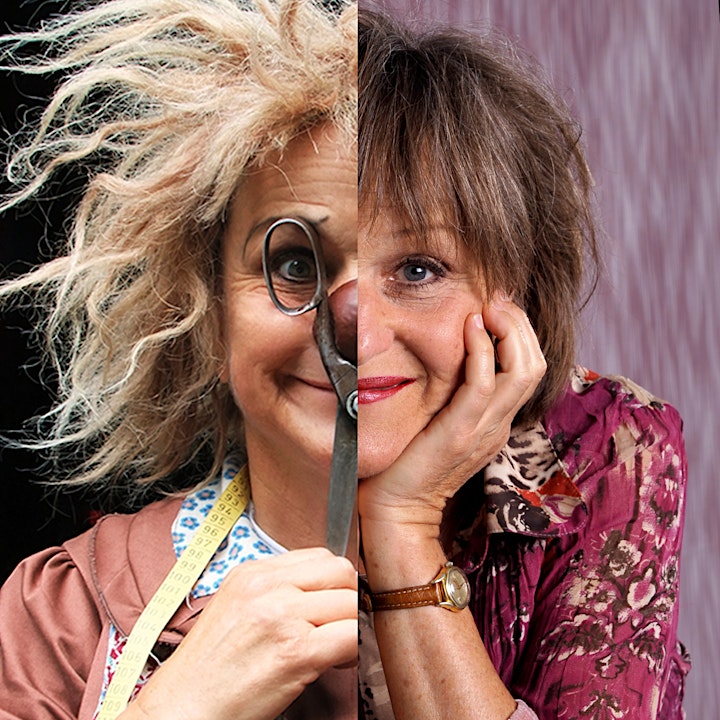 "Una obra de risa magnífica. Así es cómo la comedia debe ser."—LE FIGARO
Juana La Valiente es la obra maestra de Gardi Hutter, tesoro nacional de Suiza, la maestra de teatro de clown. Desde 1981, ella viaja actuando por todo el mundo, realizando más de 3700 actuaciones en 35 países. Ha creado 8 obras de teatro, 1 de circo y tiene 18 premios.
Es la PRIMERA ACTUACIÓN de Gardi Hutter en Alicante (9 y 10 octubre).
Juana La Valiente es un show lleno de risas sin ninguna barrera del idioma, un plan perfecto para el fin de semana. Apto para personas mayores de 6 años.
Sinopsis
La payasa Hanna juega con problemas existenciales. Sus historias - sin palabras, pero llenas de galimatías - son parábolas de tragicomedia de una desesperada mujer valiente y sus luchas cómicas contra la vida: despeinada y furiosa, sucia y loca, conmovedora y poética. En cada actuación, ella crea un universo absurdo, un tipo de lucha contra los molinos de viento como Doña Quijote. Pierde ella siempre - pero de una manera brillante.
[English]
"A magnificent burlesque. Comedy as it should be." —— LE FIGARO
The Brave Jane is the masterpiece of Gardi Hutter, Switzerland's national treasure, the master of clown theatre. Since 1981, she has taken her clown theatre halfway round the world, putting over 3700 shows in 35 countries so far. She has created 8 theatre and 1 circus productions and been awarded 18 prizes for her art.
This is Gardi Hutter's FIRST PERFORMANCE in Alicante.
The Brave Jane is a show full of laughter, without any language barrier. It is your perfect plan for the weekend, suitable for people over 6 years old.
Synopsis
Clown Hanna plays with existential troubles. Her stories - wordless, but full of gibberish -are tragicomic parables of a hopelessly brave woman and her comic struggles with life: disheveled and furious, nasty and crazy, touching and poetic. In each show, she creates an absurd universe, a kind of a Donna Quixote fighting windmills. She always fails – but in a brilliant way.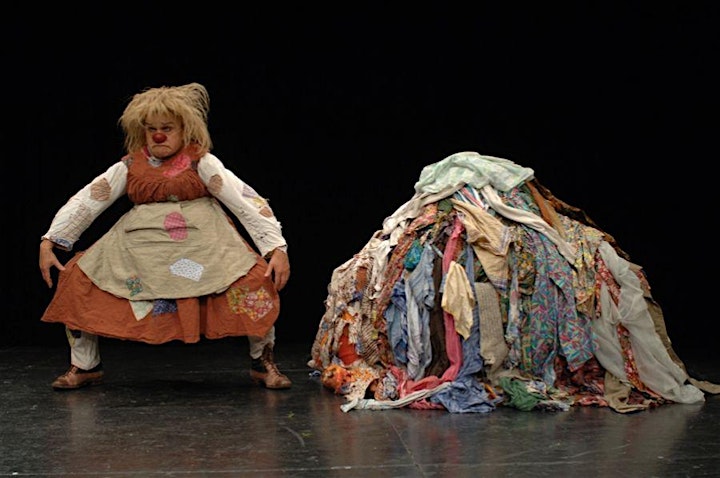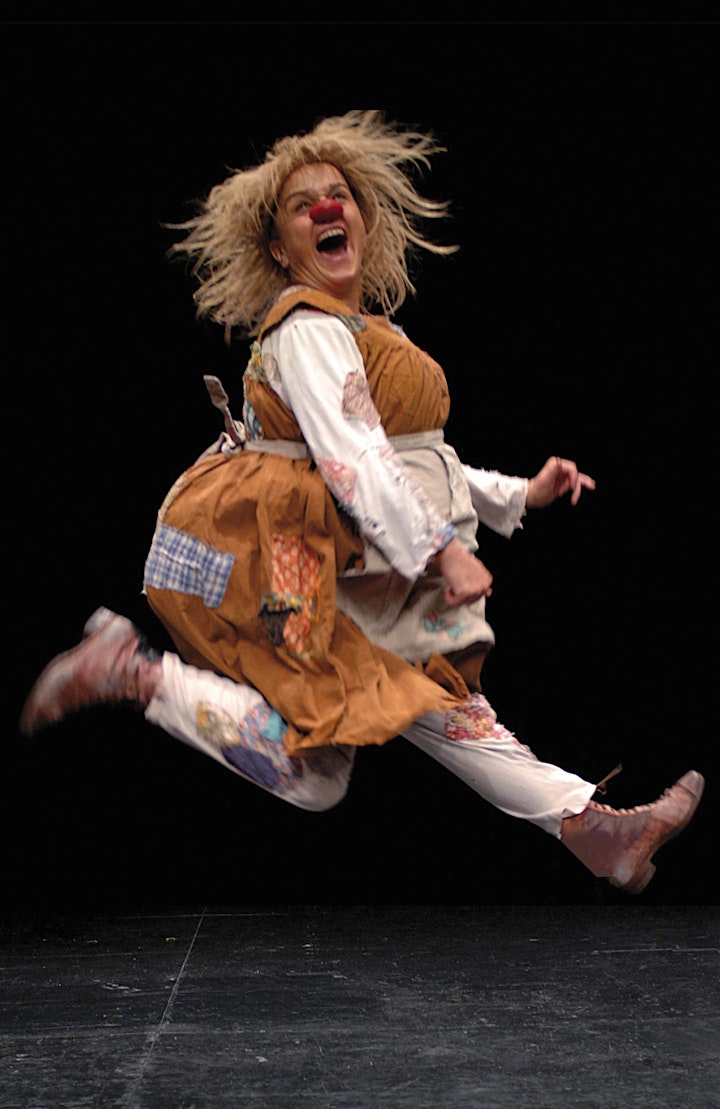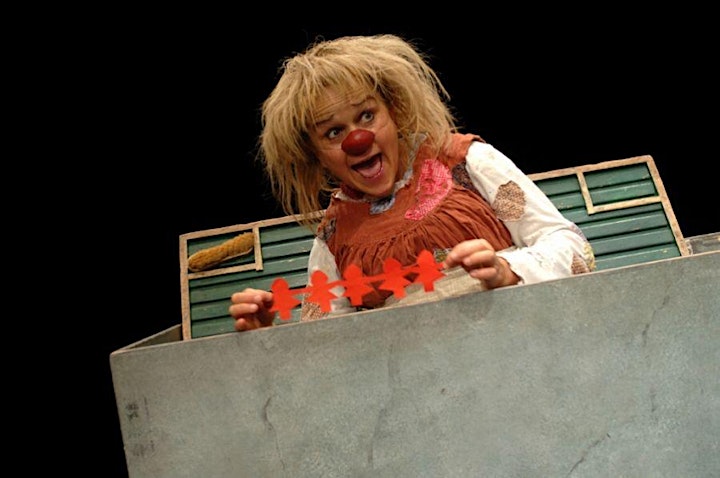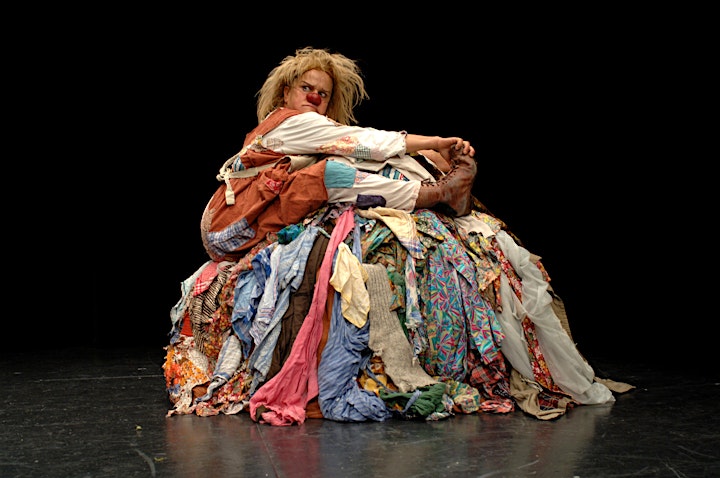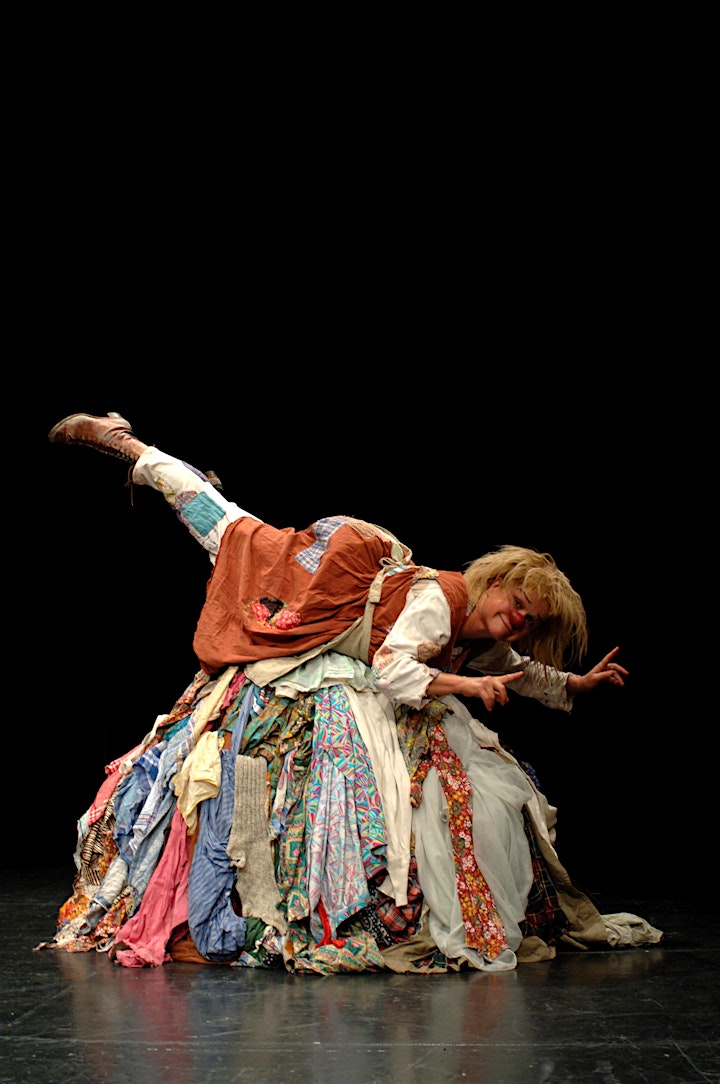 INFORMACIÓN IMPORTANTE:
1. En la entrada se tomará la temperatura a todos asistentes. No se permitirá la entrada con una temperatura superior a 37.5 grados.
2. Es obligatorio el uso de mascarilla en el recinto durante toda la estancia.
3. No se permite comer ni beber, se ruega mantener el silencio durante la representación.
4. Prohibido hacer fotos y grabar videos durante la representación.
5. No se permite la entrada de personas de menor de 6 años.
6. Debido a la naturaleza especial del recinto, no se permite la entrada después de que haya comenzado la actuación.
7. No se aceptarán cambios ni reembolsos.
8. Debido a la situación sanitaria, al elegir butacas, mantenga todos los asistentes juntos sin asientos vacíos entre sí, y al menos, deje un asiento como distancia de seguridad con los de más. Se ruega comprar entradas según las zonas planificadas del recinto. Por favor, no elija asientos donde es para 2 o 3 asistentes si venga sol@. Si tenga alguna necesidad o duda, contacte con nosotros a info.justartassociation@gmail.com. ¡Gracias!
IMPORTANT INFORMATION:
1. At the entrance, the temperature of all attendees will be taken. Entrance will not be allowed with a temperature above 37.5 ℃.
2. It is mandatory to wear a mask in the venue during the entire stay.
3. It is not allowed to eat or drink; please maintain silence during the performance.
4. It is forbidden to take photos and record videos during the performance.
5. The entrance of people under 6 is not allowed.
6. Due to the special nature of the venue, entry is not allowed once the performance has begun.
7. Changes and refunds will not be accepted.
8. Due to the sanitary situation, when choosing seats, please keep all the assistants together without empty seats between them, and at least leave one seat as a safety distance with the others. Pay attention to different areas of the venue, please do not choose seats where it is for 2 or 3 attendees if you are coming alone. Any requirement or questions, contact us at info.justartassociation@gmail.com. Thanks!