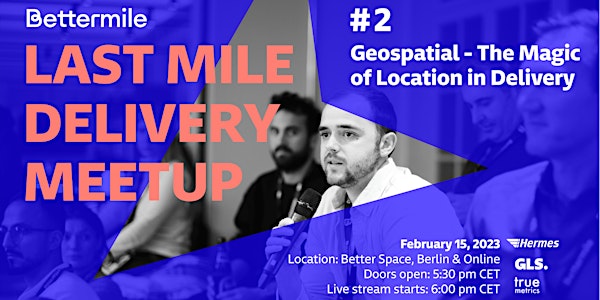 Last Mile Delivery Meetup
Join the second edition of the Last Mile Delivery Meetup to discuss about Geospatial: the magic of location in last mile delivery.
About this event
📢We are excited to bring you speakers from leading delivery companies and geospatial technology innovators to discuss the challenges and opportunities provided by location data.
Everyone in the delivery business can relate to address accuracy issues. Misspellings, duplicate street names, hidden entrances and more can make a delivery driver's day a living hell. Add misplaced geocodes and the delivery route becomes an odyssey.
For businesses of scale, poor address quality is a major productivity drain. Fortunately, innovations such as machine learning and AI offer delivery businesses the opportunity to reduce costs and become more efficient.
Speakers:
➡️David Niñoles Asin ➡️ GLS Iberia
With more than 6,000 delivery vehicles in over 620 agencies, GLS Spain and Portugal operate one of the strongest parcel networks in Iberia. As CDO, David is driving the digital efforts on the subcontinent. He will discuss the potential of location data for use cases such as fraud prevention and carbon footprinting.
➡️Ingo Boegemann ➡️ Truemetrics.io
As Co-founder of Berlin-based startup Truemetrics, Ingo is working on the future of location data. We will learn how motion detection and machine learning can fill gaps in location data sets in the delivery process. Its application can lead to better ETAs and higher delivery productivity.
➡️Alexander Reddehase ➡️ Hermes Germany
As Head of Last Mile Development at Hermes Germany, Alex is at the forefront of innovation at one of the leading parcel delivery companies in Europe. He will discuss the impact of errors in address and location data on operations.
➡️Octavio Herrera & Stephan Georg ➡️ Bettermile
As Product Owner and Data Analyst for Better Places, Octavio and Stephan have encountered a variety of challenges with address processing and geocoding and have learned the specifics of the delivery industry the hard way.
We are looking forward to get the last mile delivery community together again. Please let us know whether you want to attend onsite or virtually by registering here:
👉https://bettermile.com/last-mile-meetup