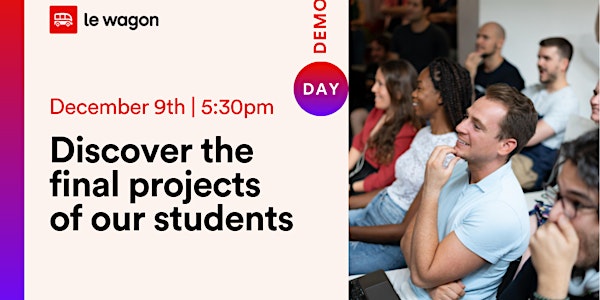 Le Wagon Demo Day - Barcelona Web Development & Data Science
Join us online to watch and support our students presenting their final demos!
About this event
During 9 intensive weeks, 34 sharp-minded and highly motivated people undertook the challenge of learning how to code and deploy their first apps. 🚀
The result: an empowered group of diverse people, eager to take the next step in their life as Developers, Data Scientists, Data Analysts, Freelancers, Product Managers, or Entrepreneurs. 🔥
Join us online on September 9th to see the projects they built entirely from scratch over the last ten days of the full-time Web Development bootcamp and Data Science bootcamps. 💻
Join us on Zoom to celebrate their success and find out what YOU can build with Le Wagon's coding skills! 💪
Wanna be part of our next journeys through tech?
👀 Applications are open over here: www.lewagon.com/barcelona 👈