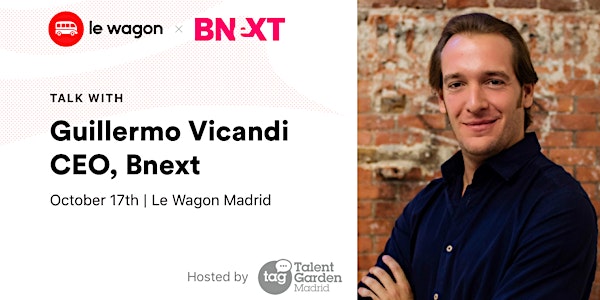 Le Wagon Talk with Guillermo Vicandi, CEO of BNEXT
Le Wagon Talk with Guillermo Vicandi, Ceo of Bnext
When and where
Location
Talent Garden Calle de Juan de Mariana, 15 28045 Madrid Spain
About this event
For this new Talk, we will be pleased to welcome Guillermo Vicandi, CEO and Co-founder of Bnext, a Spanish Fintech funded in 2016 as the first innovating digital marketplace of financial products.
After the first crowdfunding round, the company was selected to participate in the first Residency acceleration program from Google Campus Madrid. During those months, Guillermo realized that they were born to change banking paradigms and give back people control over their financial lives. Therefore they went beyond its original proposal and started creating a real alternative to traditional banks.
In the last three years, the company has extended the functionalities of its Digital account (which aren't technically bank accounts - the company works with an e-money license) and launched a VISA prepayment card not associated with any Financial entity.
Nowadays, Bnext puts within reach a full marketplace that is more transparent. You can connect all your traditional accounts and manage all your money from a single App, withdraw and pay everywhere with fewer fees, get money (changeable points) for your purchases on associated brands like Spotify, Netflix or Cabify thanks to its rewards program and hire great third-party financial and insurance products selected by their team.
This Spanish Neobank raised a first seed round of 1,5M€ to scale, and in 2018 they were the company within its sector growing at a higher pace (48% monthly rate). Its growth has been incredible during the last months multiplying x10 its active users and reaching 300k cardholders of its VISA card.
At this point, they've just announced a €22M funding series A (the largest round in the fin-tech sector to date) to undertake its international expansion to Latin America. The company plans to launch in Mexico by the end of next November, followed by a progressive rollout across the region.
Guillermo is a Law and Economics Graduate and Master in Finance. Before setting up Bnext, he worked as a Senior Associate at ING and BBVA. Take this opportunity to know more about the entrepreneurial journey of Guillermo and his vision on the future of Banking.
You'll also have the opportunity to meet the Madrid Wagon team and our apprentice developers of the autumn batch 2019 with a drink!
For further information, we invite you to visit https://bnext.es/
We look forward to meeting you soon!
Le Wagon team