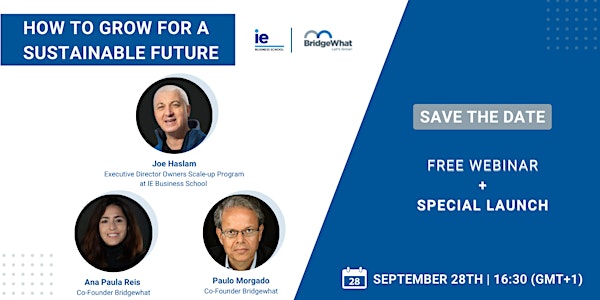 Learning How To Grow For A Sustainable Future
Join us on September 28th for the live webinar "How to grow for a sustainable future"
When and where
Location
IE Local Online Events - Portugal -- Online, --
About this event
Given enough time, most business owners could work out what needs to be done by themselves. But time is money and none of us is going to live forever. So how do owners find out what they need to know? Why do they need to grow anyway? Can Sustainability done right actually save money?
IE University partners with Bridgewhat, a business platform that believes that remarkable networks will continuously bridge and deliver sustainable growth as a purpose for human development. When great business owners come together, they can learn as much in a day as in six months by themselves.
Join us on September 28th for the live webinar "How to grow for a sustainable future", at 16:30 (Lisbon time), hosted by Joe Haslam, Executive Director of Owners and Scaleup Program at IE Business School, Ana Paula Reis and Paulo Morgado, Co-Founders of Bridgewhat.  Be the first to see Bridgewhat Academy, a free app aimed at all individuals who wish to deepen their knowledge and keep up with business growth insights.
Don't miss this opportunity to learn techniques to develop healthy and sustainable businesses.
Agenda
16:30 - 16:35: Welcome
16:35 - 16:45: Growth & Sustainability - Prof. Joe Haslam
16:45 - 17:15: A conversation on Growth and Sustainability with Prof. Joe Haslam and the Bridgewhat Founders + Q&A
17:15 - 17:20: Bridgewhat Academy App Demo - Bridgewhat
If you are a professional working and interested in sustainable growth, don't forget to register, we will send you the LinkedIn Live URL closer to the event date.
About Professor Joe Haslam
Professor Joe Haslam is the Executive Director of the Owners Scaleup Program at IE Business School in Madrid, Spain. This is a program specially designed for small and medium-sized companies that want to scale. He is also the presenter of the High Impact Online Program "Scaleup! How to Successfully Manage Growth" and the Academic Director of the Global Scaleup Program, a joint course offered by IE with the American University of Beirut. In the International MBA, he teaches an award-winning elective called "Scaling Up Your Startup". In 1998, Prof Haslam was on the founding Team of Marrakech, a Dublin-based e-procurement company that raised over $75m in Venture Capital and scaled to over 250 people. He is the co-founder and Chairman of Hot Hotels, the first company from Spain to be accelerated by the Techstars program in the USA (Boston, Summer 2015). He was born in Ireland and has an MBA from IE Business School. He has lived in Madrid for the past 15 years.
About Ana Paula Reis
Ana Paula Reis is an entrepreneur and co-founder of SelPlus and Seldata (2002-2018). Board Member of Bynd Venture Capital, Ana is an EXCO Member of the YPO Entrepreneurship & Innovation Network, NED, mentor and advisor for companies and projects in different sectors and life stages.
Ana had a successful career at Mars from 1990 to 2000, where she was Management Team Member in Portugal and Spain since 1992, holding several senior management positions in Planning, Operations, Finance and Sales in Iberia, serving and leading different international projects. Having a 30 years long career, Ana has held several senior-level functions, building an experienced, solid reputation in Sales, Technology, Strategy and Entrepreneurship. Ana earned a Global Executive MBA from IESE Business School in 2007 and a B.S. degree in Business Management from ISCTE, in 1990. In 2017, Ana took the Harvard Business School, Women on Boards – Succeeding as a Corporate Director Program.
About Paulo Morgado
Paulo Morgado is an entrepreneur, a C-Suite executive and a strategist. He is a former Executive Vice President of Capgemini, where he held the position of CEO of the Portuguese (2003-2014) and Spanish (2014-2018) offices. He has been working in the Professional Services industry for more than 25 years (having integrated firms as Roland Berger and Banco Finantia), focusing on strategy and IT consulting, along with M&A. He has a solid reputation as a specialist in business turnarounds levered on sales growth. Paulo has a Doctor´s degree in Business Administration (Ph.D) from Nottingham Trent University, and an MBA from UCLouvain, along with university degrees in Business and Law, and a MPhil. He also got multiple certifications in Digital Transformation, granted by the most prestigious EU and USA schools. Paulo still plays an active role in the academy, having published eight books on business-related topics, and lectured Corporate Strategy in top Business Schools, such as Instituto de Empresa or Porto Business School.