Sorry, the promotional code you entered has expired.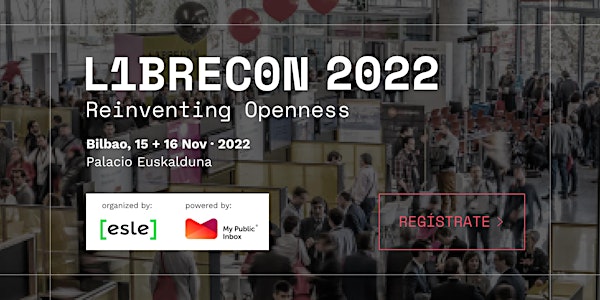 Librecon 2022
Reinventing Openness
When and where
Location
Euskalduna Bilbao 4 Abandoibarra Etorbidea 48011 Bilbo Spain
Refund Policy
Refunds up to 7 days before event
Eventbrite's fee is nonrefundable.
About this event
EN ESPAÑOL
X Edición del evento internacional de referencia del sur de Europa del sector de las tecnologías abiertas aplicadas a sectores estratégicos de la economía.
Fechas: 15 y 16 de noviembre de 2022
Lugar: Palacio de Euskalduna, Bilbao
Hora: martes 15 de noviembre de 9.00 a 19.00 y miércoles 16 de noviembre de 9.00 a 14.00
Organizador: ESLE
Powered by: MyPublicInbox
Los próximos 15 y 16 de noviembre de 2022 se celebrará la 10ª edición de uno de los mayores eventos de referencia en el sector de las tecnologías abiertas: Librecon 2022. Una feria y congreso que reúne a más de 1200 profesionales, más de 50 conferencias y más de 100 ponentes en 2 días llenos de tecnología e innovación.
2 días en los que el Palacio de Euskalduna se convertirá en el encuentro de referencia para conocer las últimas tendencias del sector de las tecnologías abiertas y en los que el conocimiento y el networking serán los protagonistas.
Los 6 bloques temáticos principales que se tratarán este año en el evento serán:
Ciberseguridad
Innovación abierta
Metaverso, Web3 y NFTs
Computación cuántica
Industria 5.0 y edge computing
Transformación digital
¡Además entre las actividades habrá una especial dedicada a la formación y el empleo en el sector IT!
Si quieres reunirte con las organizaciones nacionales e internacionales más relevantes del sector y con los profesionales más influyentes, ¡regístrate ya y reserva tu plaza!
EUSKERAZ
Ekonomiaren sektore estrategikoei aplikatutako Europa hegoaldeko nazioarteko teknologia irekien sektoreko erreferentziazko ekitaldiaren X. edizioa.
• Eguna: 2022ko azaroaren 15 eta 16a
• Lekua: Euskalduna Jauregia, Bilbao
• Ordua: azaroak 15, asteeratea, 9.00etatik 19.00ra eta azaroak 16, asteazkena, 9.00etatik 14.00ra
• Antolatzailea: ESLE
• Powered by: MyPublicInbox
2022ko azaroaren 15ean eta 16an, teknologia irekien sektoreko erreferentziazko ekitaldi handienetako baten 10. edizioa ospatuko da: Librecon 2022. 1200 profesional, 50 hitzaldi eta mahai-inguru eta 100 hizlari baino gehiago bilduko dituen azoka eta kongresua, teknologiaz eta berrikuntzaz betetako bi egunetan.
2 egun horietan, Euskalduna Jauregia erreferentziazko topaketa bihurtuko da teknologia irekien sektoreko azken joerak ezagutzeko, eta ezagutza eta networkinga izango dira protagonista.
Aurten jorratuko diren 6 gai-multzo nagusiak honako hauek izango dira:
• Zibersegurtasuna • Berrikuntza irekia • Metaverso, Web3 eta NFT • Konputazio kuantikoa • Industria 5.0 eta edge computing • Eraldaketa digitala
Gainera, jardueren artean, IT sektorean prestakuntza eta enpleguari buruzko jarduera berezi bat egongo da!Estatu eta nazioarteko sektoreko erakunde garrantzitsuenekin eta profesional eraginkorrenekin bildu nahi baduzu, izena eman eta gorde zure lekua!
IN ENGLISH
X Edition of the international event of reference in southern Europe in the sector of open technologies applied to strategic sectors of the economy.
Dates November 15 &16, 2022
Venue: Euskalduna Palace, Bilbao
Time: Tuesday, November 15 from 9:00 a.m. to 7:00 p.m. & Wednesday, November 16 from 9:00 a.m. to 2:00 p.m.
Organizer: ESLE
Powered by: MyPublicInbox
On November 15 & 16, 2022, the 10th edition of one of the largest reference events in the open technology sector will be held: Librecon 2022. A fair and congress that brings together more than 1,200 professionals, more than 50 conferences and more than 100 speakers in 2 days full of technology and innovation.
2 days in which the Palacio de Euskalduna will become the reference meeting for learning about the latest trends in the open technology sector and in which knowledge and networking will be the protagonists.
The 6 main thematic blocks that will be discussed this year at the event will be:
Cybersecurity
Open innovation
Metaverse, Web3 and NFTs
Quantum computing
Industry 5.0 and edge computing
Digital transformation
In addition, among the activities there will be a special one dedicated to training and employment in the IT sector!
If you want to meet with the most relevant national and international organizations in the sector and with the most influential professionals, register now and reserve your place!