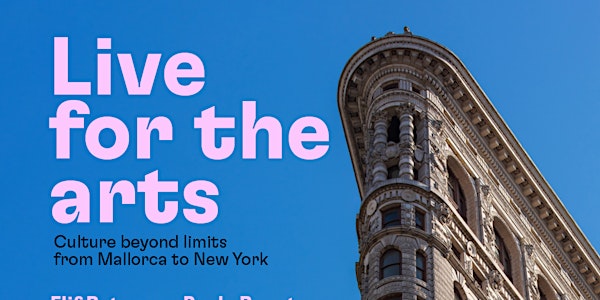 Live for the arts. Culture beyond limits from Mallorca to NewYork
Event Information
Location
INNSIDE New York NOMAD
132 West 27th Street
New York, NY 10001
Culture beyond limits from Mallorca to New York
About this event
Separated by 4,000 miles, the islands of Manhattan and Mallorca are soon to be connected like never before. Both islands, offering rich culture, deep history, remarkable scenery and renowned spirit, will come together for the first time at Live For The Arts at INNSiDE by Meliá New York NoMad on Thursday, May 5, 2022 from 4:30 p.m. to 9:30 p.m.
To celebrate the new United Airlines direct flight between Newark Liberty International Airport to Mallorca (and also Tenerife) airports in Spain, Live for The Arts will honor the sights, sounds and tastes from both iconic destinations. Hosted by Mallorca's own Meliá Hotels International, the evening will be filled with literary panel discussions, live art installations, musical performances and delectable cuisine from Mallorca and New York.
This is why Live for arts is making a first stop in New York, with spreading Mallorcan and Spanish culture outside our borders as a goal. To shorten the distance between Mallorca and New York and allow us to discover everything we have in common, everything we don't, and everything that makes us unique.
Live for the Arts will feature engaging conversations, lively pop-up exhibits, performances, and live art installations, open to the public for free:
4.30 pm Live art installation by Mallorca-based artist Grason Ratowsky
5.00 pm Conversation Sebastià Portell (Mallorca playwright and author) and Brooklyn-based author Megan Milks
6.30 pm 'La anguila' Live art installation by leading Spanish artist and writer Paula Bonet
7.30 pm Conversation Virginia Feito + Elif Batuman
9 pm Music by Aina Zanoguera , one of the most prodigious voices on the Balearic Islands music scene
'Back for the future' Carles GOD (from 4.30pm to 8pm)
Meet the artist at 5.30pm & 6,30pm
La Pajarita, gastronomic experience
Throughout the evening, additional interactive experiences will be curated by New York's top creative minds, including: The Locker Room, a popular femme-owned creative house, who will host a photography and painting installation inspired by Spain and New York City; Brooklyn's Graff Tours who will engage arriving guests with an interactive graffiti experience; Art Start, a non-profit organization that uses the creative processes to support children and youth, will host a multimedia exhibition featuring work from their Portrait Project; and Rizzoli Bookstore, who will curate a selection of books inspired by Spain and New York City for guests to browse and purchase.
Date and time
Location
INNSIDE New York NOMAD
132 West 27th Street
New York, NY 10001