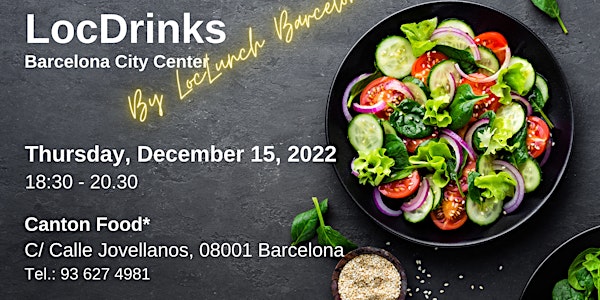 LocDrinks Barcelona - Universitat - Thursday, December 15, 2022
LocDrinks is a networking event organized by LocLunch Barcelona and aimed at globalization, localization and translation professionals.
When and where
Location
Canton Food 2 Carrer de Jovellanos 08001 Barcelona Spain
About this event
IMPORTANT: Please get your ticket from Eventbrite.
Dear LocLunchers,
December's already upon us and the holiday season is around the corner.
But before 2022 draws to a close, we're going to squeeze in a couple of LocLunch events. 😊
The first of these is a LocDrinks event on Thursday 15 December (we'll announce the other event soon).The venue this time is a Cantonese restaurant with a huge array of tasty dishes to tempt you. So, whether you just fancy a drink, want to sample some exotic tapas or go the whole hog and demolish a dish of noodles, it's up to you.
These informal networking events provide a great opportunity to meet up with other professionals in translation, localisation and related industries. And they're always fun!
So come and join us at Canton Food on *Calle Jovellanos, 2* (don't confuse it with Canton Food II around the corner!) between 6.30 pm and 8.30 pm on Thursday 15.
As always, please register via Eventbrite, to help us to keep track of numbers:Hope to see you there!
As usual, this event is brought to you by #LocLunch Barcelona Ambassadors: Yuka Nakasone, Marc Núñez de Prado, Sonya Biernath y Lisa McCarthy.
* It's free to register for the event, you just pay for your own drinks/food on the day.* To help us with organisation, please register for your ticket here.* If you register for a ticket but can't make it on the day, please try to let one of the organisers know, or cancel the ticket via Eventbrite.
-------------------------------------------------------------------------------------
Queridos LocLunchers:
¡Cómo pasa el tiempo! Estos 11 meses de 2022 han pasado volando, y casi sin darnos cuenta nos hemos plantado de nuevo en diciembre, a escasos días de las celebraciones navideñas y de fin de año.
Esta vez queremos organizar 2 eventos para diciembre, para asegurarnos de que podemos volver a encontrarnos antes de que acabe el 2022. 😊
El primero es un LocDrinks-Dinner el jueves 15 de diciembre. Y el segundo, que anunciaremos muy pronto, será justo antes de fin de año.
Para el día 15 hemos elegido un restaurante chino cantonés con un amplio surtido de tapas, que podríamos degustar mientras tomamos una copa o un refresco. Únete a nosotros y disfruta de un encuentro informal y divertido entre amigos y colegas. Si no quieres picar nada, no hay problema, pero te avisamos que hay unos platos deliciosos. 😉
Esto no deja de ser un evento de networking para estar con profesionales de la traducción, la localización, la internacionalización y otros sectores relacionados. ¡Si unimos diversión al trabajo, tanto mejor!
El restaurante es Canton Food y se encuentra en la *Calle Jovellanos, 2.* (Hay otro muy parecido cerca, que se llama casi igual, pero estaremos en el de la calle Jovellanos. Nos vemos entre las 6.30 pm y las 8.30 pm del jueves 15 de diciembre.
Como siempre, por favor, regístrate en Eventbrite. Así podremos organizarnos bien.
¡Nos vemos pronto!
Como siempre, este evento está organizado por el equipo de embajadores de #LocLunch Barcelona: Yuka Nakasone, Marc Núñez de Prado, Sonya Biernath y Lisa McCarthy.
* Registrarse al evento es GRATIS, solo tendrás que hacerte cargo de tus consumiciones.
* Para echarnos una mano con la organización, te pedimos que te registres aquí.
* Si te registras, pero finalmente no puedes asistir al evento, avisa por favor a uno de los organizadores o cancela tu registro en Eventbrite.
---------------------------------------------------------------------------------------------
LocLunch is all about meeting people and enjoying a fun time over a meal or a drink. We can chat about: #goingglobal, #internationalization (#I18n), #localization (#L10n) #machinetranslation, #translation, #internationalmarketing, #internationalbusiness
We're sure you'll meet like-minded people at our events. So let's get out and do some mingling!
#LocLunch is simple – it's about having lunch or drinks together.
✔️ Each person pays for their own food/drinks
✔️ It takes place once a month, usually around the 2nd Thursday (it may vary)
✔️ It's inclusive, so anyone with an interest in these topics can join
✔️ It's held at a well-connected venue so that as many people as possible can join (we don't have a fixed location)
✔️ Anyone is free to set up a local LocLunch in their area
Join our growing community on LinkedIn and stay in touch: http://bit.ly/2VVRmbJ