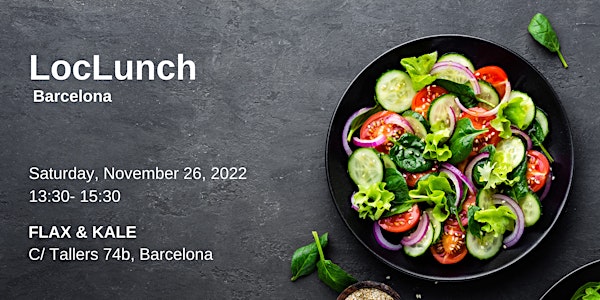 LocLunch Barcelona November 26, 2022 - Barcelona
LocLunch is an inclusive and local networking opportunity for globalization, localization and translation professionals and beyond.
When and where
Location
Flax&Kale 74b Carrer dels Tallers 08001 Barcelona Spain
About this event
#LocLunch #Barcelona announcing its #LocLunch - Saturday, November 26, 2022, Barcelona
You ask and we deliver! Some people asked us whether we could do LocLunch on a weekend as they find it difficult to make the weekday events.
So, we've booked a table for 1.30 pm at Flax & Kale (Carrer Tallers) for this coming Saturday, November 26th.
And, seeing as it's a weekend, why not combine some professional networking with a bit of fun with friends or family? Feel free to bring along whoever you like. 😊
The restaurant is very central and spacious with lots of tasty options to please all palates. They also have a weekend brunch menu.
** This time, as we need to book a table, it's really important that you register via Eventbrite. If you can't make it in the end, please cancel your registration via Eventbrite or inform one of the organisers. 😊
See you soon!
LocLunch Barcelona Ambassadors
********
¡Hola a tod@s!
¡Oído cocina! Hemos recibido peticiones para LocLunches celebrados en fines de semana.
Así, para este sábado 26 de noviembre, hemos reservado una mesa en Flax & Kale (Tallers) a las 13.30 h. ¡Ven con tus niños, pareja, amigos o padres! Como es en fin de semana, podemos aprovechar para combinar el networking profesional con un almuerzo entre amigos y familia.
El restaurante está muy céntrico, es espacioso y tiene una carta amplia para todos los gustos. Para los que echamos de menos los "brunches", hay una carta especial de brunches solo para fines de semana.
Como siempre, apúntate, por favor, por Eventbrite.
En esta ocasión, como hay que reservar mesa para comer, es muy importante inscribirse y, en caso de no poder asistir, cancelar el registro a través de Eventbrite o avisar a uno de los organizadores 😊
¡Nos vemos pronto!
Embajadores de LocLunch Barcelona
******
IMPORTANT: Please get your ticket from this site.
LocLunch is about meeting people just for the sake of getting together and sharing a great time over a meal. We can talk about #goingglobal, #Internationalization (#I18n), #Localization (#L10n) #Machinetranslation, #Translation, #Internationalmarketing, #internationalbusiness
We are sure you will find like-minded people there! So let's get out and mingle and chat!
#LocLunch is simple - It's about having lunch together:
✔️Everybody pays for their own food and drinks
✔️It's once a month around the 2nd Thursday (may vary)
✔️It's inclusive so everybody with an interest in these topics can join
✔️It's at a well-connected place so that as many people as possible can join (not necessarily a fixed location)
✔️ Anybody can start a local LocLunch and help kick this off.
Join our growing Linkedin community on Linkedin and stay in touch: http://bit.ly/2VVRmbJ