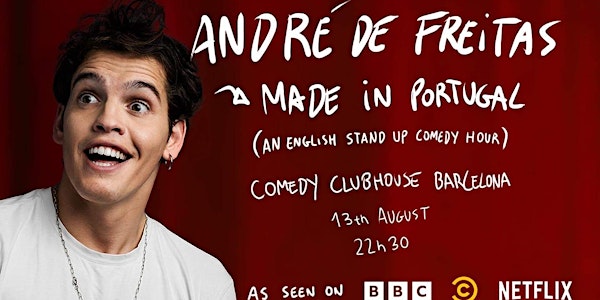 MADE IN PORTUGAL • Stand-up Comedy in English with
MADE IN PORTUGAL is a stand-up comedy show in English featured by André De Freitas.
When and where
Location
The Comedy Clubhouse 10 Carrer dels Canvis Nous 08003 Barcelona Spain
About this event
🎫 BUY YOUR TICKET IN ADVANCE ON EVENTBUDDY
.
👶Recommended for ages ≥ 18 y/o
.
ℹ️ℹ️ℹ️ INFORMATION ℹ️ℹ️ℹ️
📅 Saturday; August 13th
🚪 Doors open: 10.00PM
🎤 Show starts: 10.30PM
⌛ Duration of the show: 70' (approx)
🚈 Urquinaona (L1-L4) or Jaume I (L4)
.
André de Freitas (@andrecomedy) is a critically acclaimed stand-up comedian from Lisbon and the most international comic to ever come out of Portugal.
At only 27, comedy has taken him to perform all over the world. Over 3 continents and 20 countries - from sleeping in a car in Hollywood at 18 to immigrating to London at 20 to pursue a comedy career and traveling the world telling jokes he's had a life and he's coming to the stage to tell you all about it.
After making history in Portugal, by being the first Portuguese to perform in iconic venues such as LA's Comedy Store, Gotham Comedy Club in New York and the Fringe Festival in Edinburgh, in his first solo hour he'll be sharing road stories, what's it like growing up in Portugal, the Portuguese mindset and of course, the life of the European immigrant in England.
An honest, raw comedy hour about identity, the ever difficult path to chasing your dreams and of course some raunchy road tales, this promises to be a laugh packed show.
OH, HE LOOKS FAMILIAR.. WHERE HAVE I SEEN HIM? 📰
Andre's regularly featured in Portuguese press as rising comedy star in Europe and often dubbed comedy's "Vasco da Gama" - he was an explorer of the old days - i know its a niche reference.
SURE, BUT WHO READS THE PAPER, WHAT ELSE? 📺
After being spotted at the Comedy Store, Grammy winning comedian Jim Gaffigan asked him to do tour support for his 2019 European tour.
Andre's also regular writing contributor and opening act for Portuguese star Rui Sinel de Cordes and has been featured on feature films, lots of Portuguese television (SIC, TVI, RTP) and in international channels such as Comedy Central UK, BBC and Netflix.
articularly from Great Britain, but also it can be applied to people from other Northern European countries.
.
The Comedy Club House provides us a great atmosphere for stand-up comedy in the downtown! We have plenty of space to make you feel comfortable. Laughing is mandatory!
.
#comedyshow #standup #humor #standupcomedy #Barcelona #barcelona2022 #comedyinenglish #evening #coolplans #safeplans #culturasegura