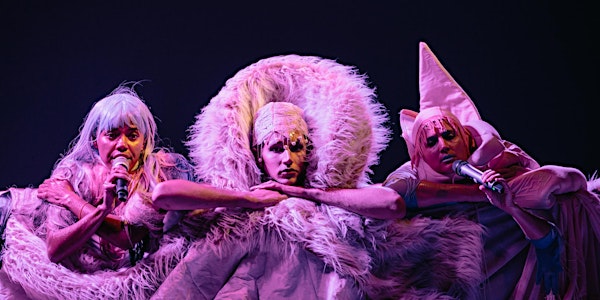 Madison Bycroft, Dejarse llevar: más allá de una condición arraigada
Location
Real Jardín Botánico de Córdoba
s/n Avenida Linneo
14004 Córdoba
Spain
About this event
Madison Bycroft, Léo Landon Barret, Nana (Anaïs) Pinay,
Co-comisariado por Barbara Casavecchia
Dejarse llevar: más allá de una condición arraigada es una nueva performance compuesta y coreografiada para el Real Jardín Botánico de Córdoba con el objetivo de plantear una reflexión comunitaria a través de canciones, sonido y narraciones. El recorrido comienza en los invernaderos,
donde conviven todo tipo de nomenclaturas, clasificaciones y relatos, y sigue después el curso de los meandros del Guadalquivir que discurre a lo largo de los herbarios. La obra consiste en moverse de un lugar a otro, sin embargo el camino no es directo: serpentea, se arremolina, se desvía y se atasca en juncales hasta que una nueva historia llega y le obliga a seguir avanzando. ¿Se puede hablar de "avance" cuando no hay objetivo ni destino claro? A medida que los nombres en latín se hunden en el barro, ciertas superficies teatrales se adhieren a ellos y congregan hierbas, arbustos y algas que acaban erosionándolas. ¿Quién hay aquí? ¿Una nueva especie? ¿Nativa y exótica? ¿Cómo permitirte la clandestinidad en las aguas opacas del Guadalquivir?
Madison Bycroft, Léo Landon Barret, Nana (Anaïs) Pinay, Carried Away: Beyond a Rooted Condition
Co-curated with Barbara Casavecchia
Carried Away: Beyond a Rooted Condition is a new performance, written and choreographed for the Royal Botanical Garden of Córdoba to speculate together in song, sound, and story. It departs from nomenclatures, classifications, and histories, preserved in greenhouses and moves with the meanders of the Guadalquivir river, which runs along the herbariums. The work is a movement from one place to another, but the way is not straight: it meanders, eddies, detours, and gets stuck in the reed swamps before a story swells and pushes it forward. Is a movement still "forward" if there is no goal, no destination in mind? With Latin names sinking into the mud, particular, edged, theatrical surfaces get anchored to their spot and gather grass, shrubs, and algae, eventually eroding too. Who is here? An introduced species? Native and exotic? How do we allow you your unrecognizability beside the opaque waters of the Guadalquivir river?