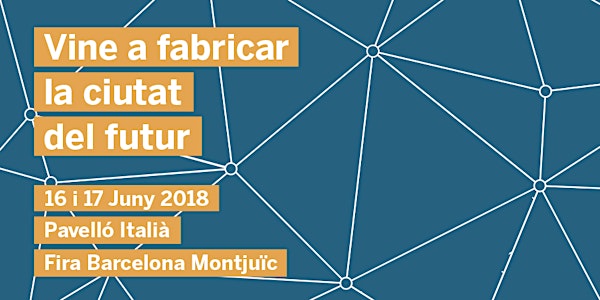 Maker Faire Barcelona 2018
When and where
Location
Pavelló Italià Pl Carles Buïgas, 8 08038 Barcelona Spain
Description
CAT
L'assistència a Maker Faire és gratuïta! Per què registrar-se?
Registrar-vos a Maker Faire ens ajudarà a saber quantes persones aniran i a planificar les nostres exposicions i activitats interactives perquè puguem disposar de materials suficients perquè tothom pugui participar i gaudir.
Volem revelar l'inventor, creador, enginyer, artesà i innovador que viu dins teu! A Maker Faire compartirem experiències amb altres persones i ens aproparem a les últimes tecnologies i iniciatives creatives.
Si sou creadors, tenim una cita del 16 al 17 de juny a la Barcelona Maker Faire 2018 (Fira Barcelona Montjuïc, Pavellò Italià). Recordeu la data i veniu amb la vostra família i els vostres amics!
Barcelona Marker Faire acull els makers més inspirats, amb talent i ambicions, entusiasmats de compartir tot el seu coneixement i creativitat a través d'exposicions, tallers i demostracions interactives.
Amb la participació de destacats experts internacionals que presentaran i discutiran els últims resultats i contribucions en educació, societat i economia, Barcelona Maker Faire vol contribuir a la promoció de la imaginació, la creativitat, la innovació i l'aprenentatge de noves habilitats i idees
Maker Faire
es va originar el 2006 a la Bay Area de San Francisco com a projecte dels editors de
Make: magazine
.

Des de llavors s'ha convertit en una important
worldwide network
d'esdeveniments emblemàtics i de producció independent. Llegiu més sobre la història de Maker Faire, el moviment dels makers, així com sobre com iniciar una Maker Faire o una School Maker Faire a la vostra ciutat.
Esperem que ens acompanyeu del 16 al 17 de juny de 2018!
RESPONSABILITAT D'ASSISTÈNCIA A L'ESDEVENIMENT AMB MENORS
Qualsevol persona que porti un nen a la Maker Faire o permeti que un nen es traslladi a Maker Faire o permeti que un nen participi en les activitats de Maker Faire, ho fa assumint el risc i, per tant, aquesta persona es manté responsable del seu benestar i el benestar d'aquest nen en tot moment.
Qualsevol persona que porti un fill a la Maker Faire o que permeti que un nen participi en els Programes reconeix i accepta que, en la mesura que la llei ho permeti, Maker Faire
no es fa responsable
per pèrdua, costos, lesions o danys que pateixi aquest nen, de manera directa o indirecta.
---
ENGLISH
Attendance is Free! Why sign up for a ticket?
Signing up for a ticket will help us to gauge how many people will be coming and will help us plan our exhibits and interactive displays so that we will have enough materials for everyone to take part and enjoy.
Let's reveal the inventor, creator, engineer, innovative craftsman that lives inside of you! Let's share experiences with others and get closer to the latest technologies and maker initiatives.
If you are a Maker, we have an appointment on 16th – 17th June at Barcelona Maker Faire 2018 (Fira Barcelona Montjuic, Pavellò Italià). Save the date and come with your family and your friends!
Barcelona Marker Faire hosts the most inspired, talented and ambitious makers, enthusiastic to share all their knowledge and creativity through exhibitions, workshops, and interactive demos
With the participation of leading international experts that will present and discuss the latest results and contributions in education, society, and economics, Barcelona Maker Faire wants to contribute promoting imagination, creativity, innovation and learning of new skills and ideas
Maker Faire originated in 2006 in the San Francisco Bay Area as a project of the editors of Make: magazine. It has since grown into a significant worldwide network of both flagship and independently-produced events. Read more on Maker Faire history, the Maker Movement, as well as how to start a Maker Faire or a School Maker Faire where you live.
We hope you join us 16th – 17th June 2018!
CHILDREN DISCLAIMER
Any person who brings a child onto the Maker Faire or allows a child to be brought onto the Maker Faire or allows a child to participate in Maker Faire activities, does so at that person or his or her child's own risk and therefore that person remains responsible for the welfare and wellbeing of that child at all times.
Any person who brings a child onto the Maker Faire or allows a child to participate in the Programs acknowledges and agrees that to the maximum extent permitted by law Maker Faire is not liable for and that person and his or her child releases and indemnifies and holds harmless Maker Faire from loss, cost, injury or damages that that child suffers, directly or indirectly arising in any way.