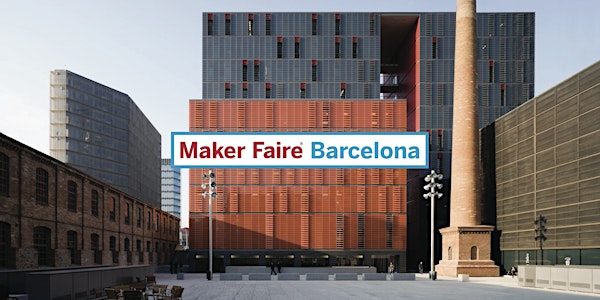 Maker Faire Barcelona 2022
Location
Poblenou Campus
138 Carrer de Roc Boronat
08018 Barcelona
Spain
Disclaimer: Access to the venue and all activities will be done in order of arrival until reaching the maximum capacity.
About this event
Disclaimer: Access to the venue and all activities will be done in order of arrival until reaching the maximum capacity.
Descargo de responsabilidad: El acceso a la sala y a todas las actividades se hará por orden de llegada hasta alcanzar la capacidad máxima.
Avís d'exempció de responsabilitat: L'accés a la sala i a totes les activitats es farà per ordre d'arribada fins aconseguir la capacitat màxima.
Català
 Una societat del coneixement, demana per avançar davant d'un món complex, construir una cultura d'innovació i, amb aquest fi, començar per crear una base per a L'Aprenentatge Al Llarg De La Vida que permeti promoure talent i habilitats en sintonia a les condicions canviants d'un futur de contorns incerts.
La cultura Maker, ecosistema d'innovació oberta avui, en ràpida progressió a tot el món; la disponibilitat creixent d'eines i tecnologies de baix cost; la distribució global digital; la investigació intensiva i una nova lògica econòmica que rau en el cor mateix de la cultura Maker, ofereixen oportunitats en tota la trajectòria vital de la persona i promouen la preparació de ciutadans flexibles, innovadors i resilients davant dels canvis, compromesos i actius en la creació de nous models de producció, autosuficients, circulars i sostenibles. 
LA UNIVERSITAT POMPEU FABRA I LA FABRICA CA L'ARANYÓ
La sisena edició de Maker Faire Barcelona, ​​i no per atzar, té previst celebrar-se al Campus Poble Nou de la Universitat Pompeu Fabra que avui, acull milers d'estudiants apassionats per la Comunicació, i les Enginyeries avançades TIC, en ple Districte tecnològic 22@ i alhora, hub de coneixement, investigació, disseny, art, creativitat i innovació de Barcelona.
Maker Faire Barcelona 2022 vol explorar i experimentar de quina manera la Cultura Maker està jugant un paper cabdal en com i on aprenen les persones, des de les experiències d'aprenentatge d'educació formal i informal a les experiències l'aprenentatge al llarg de la vida. Vol també posar l'accent en la necessitat de repensar i activar un nou model d´economia, local, diversificada, basada en el coneixement i en sintonia amb els objectius del Barcelona Green Deal, i l´Agenda 2030.
Español
 Una sociedad del conocimiento, pide para avanzar ante un mundo complejo, construir una cultura de innovación y, con este fin, empezar por crear una base para El Aprendizaje A Largo De La Vida que permita promover talento y habilidades en sintonía a las cambiantes condiciones de un futuro de contornos inciertos.
La cultura Maker, ecosistema de innovación abierta hoy, en rápida progresión en todo el mundo; la disponibilidad creciente de herramientas y tecnologías de bajo coste; la distribución global digital; la investigación intensiva y una nueva lógica económica que reside en el corazón mismo de la cultura Maker, ofrecen oportunidades en toda la trayectoria vital de la persona y promueven la preparación de ciudadanos flexibles, innovadores y resilientes frente a los cambios, comprometidos y activos en la creación nuevos modelos de producción, autosuficientes, circulares y sostenibles.
LA UNIVERSIDAD POMPEU FABRA Y LA FABRICA CA EL ARANYÓ
La sexta edición de Maker Faire Barcelona, ​​y no por azar, tiene previsto celebrarse en el Campus Poble Nou de la Universidad Pompeu Fabra que hoy, acoge a miles de estudiantes apasionados por la Comunicación, y las Ingenierías avanzadas TIC, en pleno Distrito tecnológico 22@ y al mismo tiempo, hub de conocimiento, investigación, diseño, arte, creatividad e innovación de Barcelona.
Maker Faire Barcelona 2022 quiere explorar y experimentar de qué manera la Cultura Maker está jugando un papel primordial en cómo y dónde aprenden las personas, desde las experiencias de aprendizaje de educación formal e informal a las experiencias el aprendizaje a lo largo de la vida. Quiere también hacer hincapié en la necesidad de repensar y activar un nuevo modelo de economía, local, diversificada, basada en el conocimiento y en sintonía con los objetivos del Barcelona Green Deal, y la Agenda 2030. 
DECLARACIÓN DE AUSENCIA DE RESPONSABILIDAD SOBRE MENORES
 Cualquier adulto/a que lleve consigo a menores a la Maker Faire, permita que éstos y éstas acudan al certamen o bien posibilite su participación en las actividades de la Maker Faire, lo hace bajo su cargo y, por ende, será responsable del bienestar de la o del menor en todo momento. 
El adulto o la adulta que acompañe a un/a menor a la Maker Faire o permita su participación en los programas, acepta que, en el grado máximo que permita la ley, Maker Faire no es responsable del bienestar del o de la misma, y que esa persona y el/la menor exoneran a Maker Faire de la pérdida, coste, daños o lesiones que se pudieran derivar directa o indirectamente. Autorización para la grabación y publicación de imágenes.
English
A knowledge society asks to advance in a complex world, build a culture of innovation and, to this end, start by creating a basis for Lifelong Learning that allows promoting talent and skills in tune with the changing conditions of life. a future of uncertain contours.
The Maker culture, an ecosystem of open innovation today, in rapid progress around the world; the increasing availability of low-cost tools and technologies; global digital distribution; intensive research and a new economic logic that lies at the very heart of the Maker culture, offer opportunities throughout the life course of the person and promote the preparation of flexible, innovative and resilient citizens in the face of changes, committed and active in the creation of new, self-sufficient, circular and sustainable production models.
POMPEU FABRA UNIVERSITY AND CA EL ARANYÓ FACTORY
The sixth edition of Maker Faire Barcelona, ​​​​and not by chance, is scheduled to be held at the Poble Nou Campus of Pompeu Fabra University, which today welcomes thousands of students passionate about Communication and advanced ICT Engineering, right in the District technological center 22@ and at the same time, a hub of knowledge, research, design, art, creativity and innovation in Barcelona.
Maker Faire Barcelona 2022 wants to explore and experience how Maker Culture is playing a major role in how and where people learn, from formal and informal education learning experiences to lifelong learning experiences. It also wants to emphasize the need to rethink and activate a new model of economy, local, diversified, based on knowledge and in tune with the objectives of the Barcelona Green Deal, and the 2030 Agenda.
CHILDREN DISCLAIMER Any person who brings a child onto the Maker Faire or allows a child to be brought onto the Maker Faire or allows a child to participate in Maker Faire activities does so at that person or his or her child's own risk and therefore that person remains responsible for the welfare and wellbeing of that child at all times.
Any person who brings a child onto the Maker Faire or allows a child to participate in the Programs acknowledges and agrees that to the maximum extent permitted by law Maker Faire is not liable for and that person and his or her child releases and indemnifies and holds harmless Maker Faire from loss, cost, injury or damages that that child suffers, directly or indirectly arising in any way.