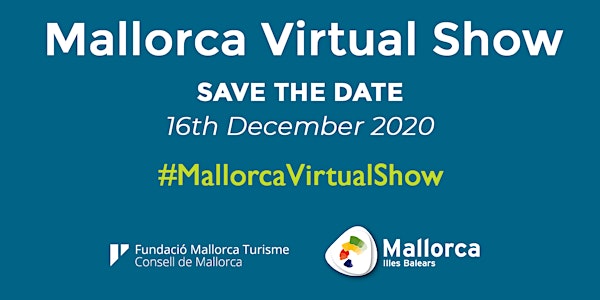 Mallorca Virtual Show 2020
Welcome to the first Mallorca Virtual Show 2020. A touristic promotional B2B event online organized by the Tourism Board of Mallorca.
About this event
MALLORCA VIRTUAL SHOW 2020
Here you can find everything Mallorca has to offer: sports, nature, food & beverage, beaches and coves, culture, art, History, traditions, active tourism, sailing & yachting and much more.
You will be able to contact Majorcan providers directly through our live chat, book a private appointment, visit their virtual booths or download all the necessary information directly from them.
Several live conferences on streaming will be shown in our auditorium throughout the day.
This virtual event takes place on December 16th from 9 am until 6 pm (GMT/UTC +1) continuously.
Once you have successfully registered, withing the next 24 hours you will receive an email with the link, user and password in order to access the virtual show.
You will be able to access the Mallorca Virtual Show some days before the 16th of December, in order to book your appointment with the exhibitor of your choice. This user and password will also be your entry to the Virtual Show on December 16th as from 9 am.
Agencies, Tour Operators, DMCs, Airlines and touristic companies from around the world are invited to this B2B virtual event.
Join us!
+info: info@mallorcavirtualshow.com