Marketing trends 2021: digital marketing, neuromarketing. How to create a successful marketing strategy.
About this event
That is very interesting what are the marketing trends of 2021, right?
During this talk wi will focus on the following topics:
Visual search.
Neuromarketing.
Personalised ads.
Voice search.
Amazon advertising. ...
User-generated content. 
Instant messaging apps. 
Mindful marketing.
Audiovisual content.
Our amazing speakers have a great experience in marketing & digital marketing and will provide us with their opinion about the marketing trends 2021.
Speakers:
Sonia Gomez - Creative Manager, EuropeanLife
Stefanie Del Moral - Global Digital Media Specialist, Volkswagen Group Services
Alvaro Lozano Fuentes - CEO manager, Entain
Harseerat Kaur - Neuro- Marketer, professor EUNBS
Carlos Herreros - Consultant in Business Development, professor EUNBS
This is a life online workshop - you will have an opportunity to ask your questions and share your experience. Join us!
+34 664 663 717 (whats app)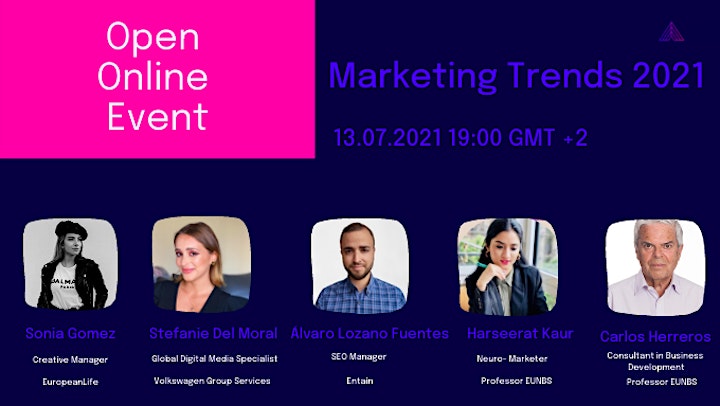 Organizer of Marketing Trends 2021