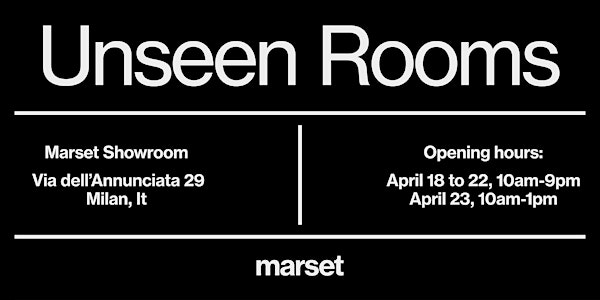 Marset | Unseen Rooms
An immersive temporary exhibition exploring the influence of light on shaping spaces. Come and experience our newest lighting collections!
Date and time
Tue, 18 Apr 2023 10:00 - Sun, 23 Apr 2023 13:00 CEST
Location
Marset Milan Showroom 29 Via dell'Annunciata 20121 Milano Italy
About this event
Opening hours: Tuesday 18 April to Saturday 22 April, from 10 a.m. to 9 p.m.
Sunday 23 April to 10 a.m. to 1 p.m.
An exhibition created to step into a new world of lighting.
Shocasing Marset's 2023 collection, this immersive exhibit demosntrates the limitless potential of light to create new and unseen spaces.
If you would like to attend this exhibition, please register here for a fast track ticket to the event.