Date and time
Saturday, November 16, 2013 · 10am - 6pm EST
Location
The LAB Miami 400 Northwest 26th Street Miami, FL 33127
Refund Policy
Contact the organizer to request a refund.
Description
FAQs:
What day(s) and hour(s) will
Mini Maker Faire be open to the public?
November 16th, 2013 from 10:00am-6:00pm
Where can I park?
Plenty of street parking in Wynwood. Valet is also available (for a small fee).
Where is the handicap parking located?
Handicap parking is located behind the venue on NW 25th Street.
Where can I park my RV?
Please email the event organizers (miamimakers@gmail.com) in advance if you have any RV or large vehicle parking needs.
Is public transportation available?
Use the metrorail to take either the Allapattah (use Santa Clara station) or Biscayne (use Brickell Station) Trolleys, which have stops within a few blocks of the venue.
Will you have bike parking?
Limited bike parking will be available on-site - so get here early!
Can I bring my dog?
Some parts of the venue will not be accessible to animals but dogs are ALWAYS welcome at The LAB Miami!
Please come prepared with the proper restraints in case they are required (we're not saying your dog is trouble but you never know how they'll react to some of the crazy contraptions you'll find at the Miami Mini Maker Faire).
Can I volunteer at the Mini Maker Faire?
Absolutely! Email us at miamimakers@gmail.com and we will fill you in. Please put "I want to volunteer!!" in the subject line.
What if it rains?
The show MUST, and will, go on! Bring rain gear to keep you dry when walking outdoors. Fortunately, most of our exhibition space is indoors so you'll be sure to keep the family dry.
What can I expect?
To have a fantastic time! You'll be surprised and intrigued with every corner that you turn.
Rain or Shine. No Refunds/Exchanges. Tickets cannot be replaced.
About the organizer
About Miami Mini Maker Faire:
MIAMade seeks to foster and support a sustainable manufacturing and DIY community in the Greater Miami area. MIAMade connects innovators and entrepreneurs, promote hackerspaces and locally-made products.
About Maker Faire:
Maker Faire is the Greatest Show (and Tell) on Earth—a family-friendly showcase of invention, creativity and resourcefulness, and a celebration of the Maker Movement. It's a place where people show what they are making, and share what they are learning.
Makers range from tech enthusiasts to crafters to homesteaders to scientists to garage tinkerers. They are of all ages and backgrounds. The aim of Maker Faire is to entertain, inform, connect and grow this community.

The original Maker Faire event was held in San Mateo, CA and in 2015 celebrated its tenth annual show with some 1100+ makers and 145,000 people in attendance. World Maker Faire New York, the other flagship event, has grown in four years to 600+ makers and 80,000 attendees. Detroit, Kansas City, Atlanta, Milwaukee, Orlando, Pittsburgh, San Diego, Silver Spring, Ottawa, Lisbon, Paris, Rome, Berlin, Newcastle, Hannover, Oslo, Trondheim, Seoul, Singapore, Taipei, Tokyo, and Shenzhen are the home of larger-scale, "featured" Maker Faires. In addition, over 120 community-driven, independently organized Mini Maker Faires are now being produced around the United States and the world—including right here in Miami.
Maker Faire is supported by Make: magazine and Maker Media.
About Make: Magazine: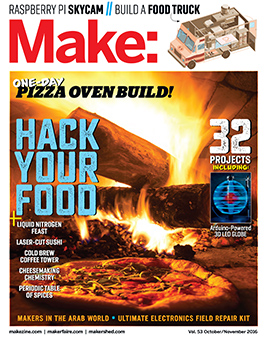 Make: is the first magazine devoted entirely to Do-It-Yourself (DIY) technology projects.
Make: unites, inspires, informs, and entertains a growing community of resourceful people who undertake amazing projects in their backyards, basements, and garages. Make: celebrates your right to tweak, hack, and bend any technology to your will.
Besides the magazine and the faire, Make: and Maker Media is: