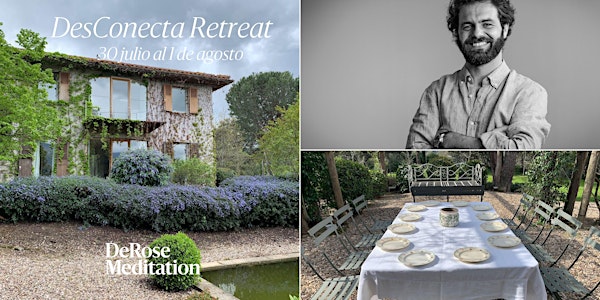 Mindfulness & Meditation Retreat
Location
La Adrada
Calle la Reguera
05430 La Adrada
Spain
Refund policy
Contact the organizer to request a refund.
Eventbrite's fee is nonrefundable.
Desconecta para conectar con aquello que es esencial, empezando por ti. Este es un evento especial en un enclave maravilloso.
About this event
Mindfulness & Meditation Retreat se crea con la intencion de hacer que desconectes para conectar. O mejor dicho, para que reconectes. Disfruta de un fin de semana exclusivo junto a un grupo reducido de personas (solo 10 plazas) y acompañado de instrucotres certificados de DeROSE Meditation. Aprovecha esta oportunidad para desarrollar tus habilidades, aprender tecnicas de gestion emocional, definir tu proposito y convertirte (o, al menos, aproximarte) a esa version de ti mismo que anhelas ser.
Nuestro programa se centra en una serie de practicas, talleres y cursos para que desarrolles todo tu potencial de manera sostenible. Lo que aprenderas en este fin de semana lo podras aplicar en tu dia a dia.
¿Cuando?
Del 30 de julio al 1 de agosto
Llegada 11h30 (sabado)
Salida 16h (lunes)
¿Donde?
En La Aldrada, Valle del Tietar (1h 15mins de Madrid)
¿Que incluye?
Alojamiento completo para 10 personas en habitacion doble compartida. Pension completa (menu vegetariano o plat-based), bebidas no alcoholicas, actividades, cursos, practicas, picnic bajo las estrellas, y alguna sorpresa mas. La vivienda cuenta con alberca natural para bañarse, y el entorno es ideal para hacer hiking y baños en el rio. La Sierra de Gredos, ademas, es punto StarLight, por lo que podremos disfrutar de un bonito cielo estrellado durante nuestra estancia. El precio tambien incluye seguro.
¿Quien?
Somos el equipo de DeROSE Meditation Madrid. En esta ocasion, os acompañaran 4 instructores certificados con experiencia y entusiasmo. Elias Barros (CEO), Fuensanta Casanova, Ludmila Belo y Miguel Perez.
PROGRAMA
Descarga aquí el programa del evento
DeROSE Meditation Madrid es una metodologia que se basa eminentemente (en un 80%) en potenciar el crecimiento personal, abordando los aspectos clave para ello, como el autoconocimiento y estudio del comportamiento humano, cambio e incorporacion de habitos, y mejora en la alimentacion, entre otros. El 20% restante se centra en las tecnicas que enseñamos en nuestras clases practicas, como mindfulness y meditacion.
Puedes practicar con nosotros online y, a partir del septiembre, tambien de manera presencial en Calle Pedro Muguruza 3 (zona Chamartin).
¡Te esperamos!
Gracias