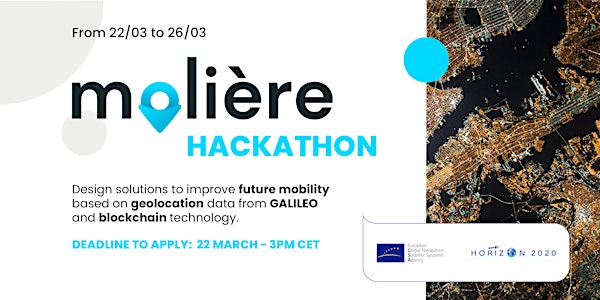 Molière - Hackathon
Molière - Hackathon
About this event
🛰️ Event information:
The first Molière - Hackathon will be held in the city of Barcelona, Spain. The goal is to identify the needs of mobility services and to prototype ideas and products that will fuel the innovation stream of Molière concept and vision. By the creative and innovative use of digital technologies, participants can create different solutions that benefit people and the mobility sector in a range of fields.
This hackathon will provide an opportunity for brilliant young talents to create their works with the help of mentors and experts, who will be on hand throughout the event, while also experiencing the unforgettable thrill of coming together with peers who share the same passion for digital technology and innovation.
‍💻 Challenges:
The two challenges teams will tackle in the Molière – Hackathon are:
Challenge 1: Improve inaccurate geo-positioning of sharing vehicles due to critical zones of the city.
Challenge 2: Smart contract definition for mobility data exchange of a marketplace.
Don't forget to indicate, in the registration process, on which one you and your team will work on during the Molière-Hackathon.
🏆 Awards:
There will be one winning team for each challenge (two winning teams in total), and each of them will receive a financial award of 750 €.
👩🏻🧑🏻‍💻Teams:
The hackathon is open to both teams (of three to five people) and individuals of legal adult age from any country. The event organizers will help participants who sign up individually to team up with other participants in a group. The procedure welcomes all applications and shall not discriminate on the basis of ethnicity, religion, sex, sexual orientation, gender expression, age, or marital status.
📅 Registration deadline:
The deadline is on 22 March 2021 at 15 pm CET.
📌Join us Virtually: https://bit.ly/3tzNUjm
Hackathon Agenda: (CET - Central European Time)
MONDAY 22 MARCH 2021*
*We will host the first day @Casa SEAT (Passeig de Gràcia, 109, 08008 Barcelona). To attend the event in-person, please register here (Places are limited, due to the Covid-19 restrictions. Only attendees with QR Code, generated by the Casa Seat web page will be able to attend the event in-person). If you prefer to be part of the event virtually, please choose the general ticket, when you register at Eventbrite.
11:00 - 11:15. Welcome speech and challenges announcement.
- Alberto Fernández Wyttenbach – Market Segment Leader at European GNSS Agency (GSA)
- Josep Laborda – CEO & Managing Partner at Factual
- Dr. Laia Pagès - Executive and Scientific Manager at CARNET
11:15 - 11:45. Inspirational Techpill Talk I
- Dr. Jose L. Muñoz Tapia – Director of the Blockchain master at the UPC School
11:45 - 12:15. Inspirational Techpill Talk II.
- Dr. María-Eva Ramírez - GNSS Expert at INECO
- Ana Senado García - Galileo User Services Support Engineer at the Galileo Service Centre (GSC)
12:15 - 12:30. Announcement of the Challenges
- Challenge 1 - Alvaro de Sicart – Head of connectivity at SEAT MÓ
- Challenge 2 - Josep Sanjuás - CO-Founder CTO-IOMOB Technology
12:30 - 13:00. Keynote Talk
- Dr, José A. López Salcedo – a member of the Signal Processing and Communications Group at UAB
13:00 - 13:30. Questions & Answers
15:00. Online Registration deadline.
18:00. Publication of Teams (on the web page www.moliere-project.eu)
TUESDAY 23 MARCH 2021
10:00 - 13:00. Individual online mentoring session I.
WEDNESDAY 24 MARCH 2021
10:00 - 13:00. Individual online mentoring session II.
THURSDAY 25 MARCH 2021
12:00. Deadline submission of final solutions (mid-term review form & video).
If these two files are not sent, your group will be automatically disqualified. You will not be able to pitch in front of the jury members on Thursday 25, March and therefore you will not be eligible for any of the announced prizes.
16:00. Publication of the final candidates.
FRIDAY 26 MARCH 2021
9:30 - 10:30. Final candidates Presentations at the table (individual).
10:30 - 10:45. Coffee break.
10:45 - 11:45. Final candidates Presentations at the table (individual).
15:00 - 15:30. Announcement of winners and Closure.
🎟️ Participation fee:
Molière Hackathon is 100% free for all participants. Just apply and get your ticket!
By registering you accept the Molière - Hackathon Terms and Conditions.