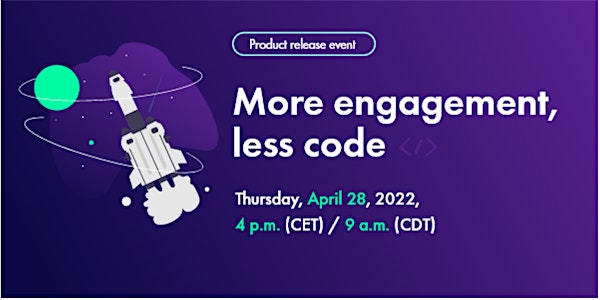 More engagement, less code
Unlock the go-to-market agility, the end-to-end user experience, and the cost efficiency in development improvements.
About this event
Hi there,
You are invited to our global product launch event coming soon!
🚀Register now, then tune in LIVE Thursday, April 28, 2022, 5 p.m. (CET) / 10 a.m. (CDT)🚀
The software industry has changed significantly over the past decade. Let us introduce you to the latest products that are contributing to the "no-code / low code" rising trend.
Join us as we:
Spotlight new product updates: Plugin V.2 and Webhooks
Explore improvements for our developer platform: engineering challenges
Highlight how these new releases will improve our customer experience
Offer special surprises for the registered attendees
Q&A Session
You will be able to join the live stream from any of these channels:
✔YouTube: https://www.youtube.com/watch?v=BFLq6xseq6I
✔LinkedIn: https://www.linkedin.com/company/reloadly
✔Twitter: https://twitter.com/Reloadly
✔Facebook: https://www.facebook.com/reloadly
✔Twitch: https://bit.ly/38nMDqe
Save your seat by registering.
Hope to see you there!