Get in the perfect mood for GREEN 2021.Gain a more profound understanding of yourself and nature, shift from your busy day to day life.....
About this event
SCHEDULE
3 November 2021
9.00 – 9.30: Arrival
9.30: Opening ceremony by Stephan, Jungle & Marieke
10.00: Building the Sweat Lodge together as part of the ceremony.
14.00: Sweat lodge until evening. Every sweat is different depending on people involved and as we take our time for the process, our experiences, the sweat is finished after the 4 rounds are finished, all in the right time: Shamanic Time.
4 November 2021
9.30: Start 'Nature's Love Frequency'
16.30: Closing ceremony by Stephan, Jungle & Marieke
Practical Information
This is a 2-day event in an intimate setting on a rustic Finca just outside Granada. Accommodation is not included in the price of the shamanic journey.
Your options are full board with shared bedroom at 55 euros/night or 40 euros/night is staying in your own tent. Fantastic food on a working farm.
This pre-conference event starts on the 3rd of November, to help you get into the perfect mood for Green 2021 and shift from your busy day to day life into a receptive state to receive knowledge and insights during the conference. This event is held in a beautiful Spanish authentic Finca.
Event Questions: email Marieke - info@natureconomy.com
Location
Your ticket price does not include your accommodation. Please book your desired amount of nights, directly with the cortijo: https://cortijolacaseria.com/contact/
Cortijo Casería del Mercado is an organic farm in rural southern Spain. Offering accommodation in the heart of the Alpujarra mountains, honouring nature, ecology, and tradition. The Cortijo is a working farm, it has also been adapted as a retreat centre with traditional Spanish accommodation, a natural mineral water swimming pool and two indoor yoga studios & one outdoor training space, all with breathtaking views. Practicing biodynamic farming to produce a huge array of fully organic fruit and vegetables on site.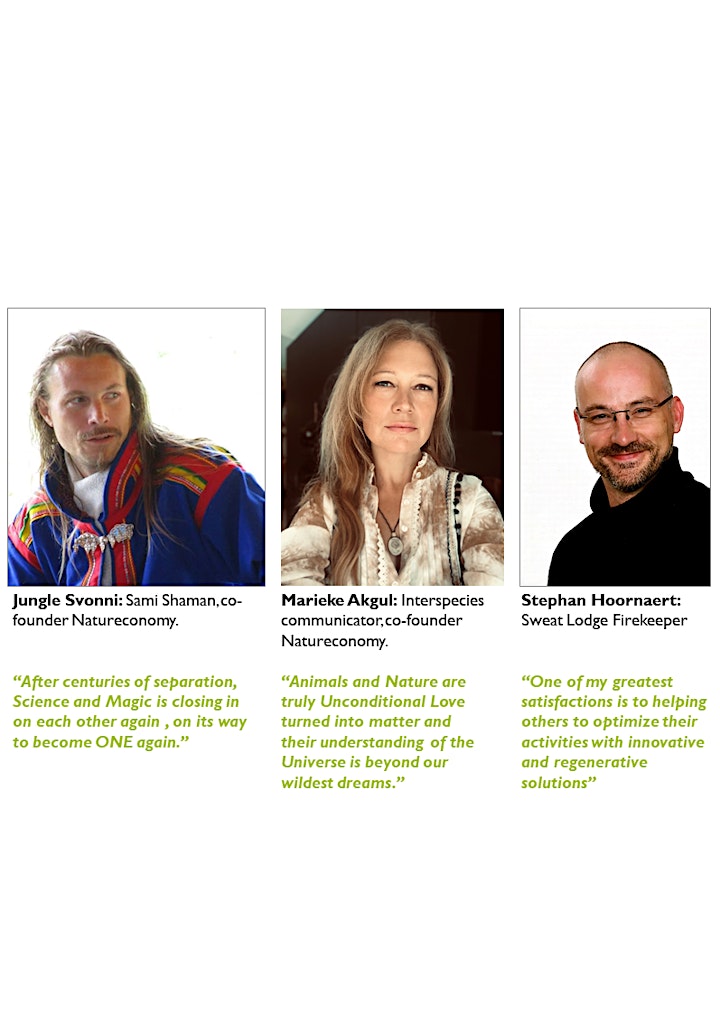 To learn more about our workshop hosts:
PRACTICAL DETAILS
Accommodation: The costs for the accommodation are €55/person/night full board or 40 euros/night is staying in your own tent with 24-hour fruit and tea buffet and three freshly prepared meals each day.
Clothing Sweat lodge: We enter the Sweat lodge dressed as it's a sacred space with no place for sexual tension. This means we cover up our genitals with at least bottom underwear and a sarong (also for men!)
Clothing Nature's Love Frequency: Comfortable clothing you can move freely in as you might want to sit outside in nature for a while or walk around.
Exercises: During Nature's Love Frequency you will be given exercises to help you master these teachings and help you fully integrate this into your life.
What to bring: Nothing in particular but you can put some items on the Altar outside of the Sweat Lodge if you feel like it.
Maximum participants: As we want to keep this course personal and intimate, we will only have maximum 25 Participants
Pricing: We ask you to be conscious of price and pay accordingly the value you give for the effort, the energy exchange, the materials (€ 50 pp). As we all have a different budget, different financial stages and places in life, so its up to you to offer that amount what is right for you as it shouldn't hold you back if you feel this is calling you.
Organizer of Nature's Love Frequency & Sweat Lodge - Pre Conference Workshop