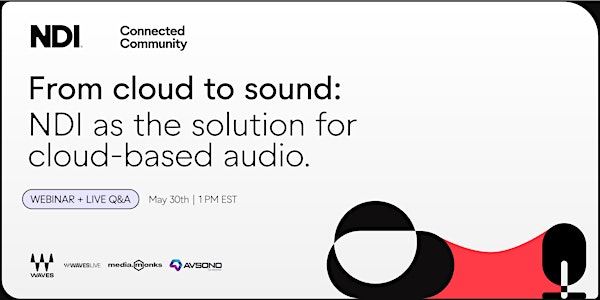 NDI Webinar: From Cloud to Sound
NDI Connected Community Webinar From cloud to sound: NDI as the solution for cloud-based audio. Date: May 30th Time: 1 PM EST
Date and time
Tuesday, May 30 · 10 - 11am PDT
About this event
NDI Connected Community Webinar
From cloud to sound: NDI as the solution for cloud-based audio.
Date: May 30th
Time: 1 PM EST
Audio authorities Waves and Avsono bring forward a successful application of NDI connectivity technology to connect audio in cloud-based production trucks for international digital marketing Media.Monks. Join in and discover why NDI is becoming a better solution for audio networking. Includes Live Q&A with all speakers and our very own NDI Audio expert.
Participants:
Wes Hovanec, Virtual Studios Lead, Media.Monks
Pablo Quintana, Founder & CEO, Avsono Inc.
Gil Wasserman, Senior Product Manager, Waves
Roberto Musso, Technical Product Marketing Director, NDI
Agenda:
— Presentation of Media.Monks success story of an NDI-enabled, cloud-based virtual production truck equipped to broadcast a 4K sports live stream, with Wes Honavec, Virtual Studios Lead
— Showcase of different NDI-based audio products from Avsono Inc. and potential workflows for the future of virtual audio production, with Pablo Quintana, Founder and CEO Product
— Walkthrough on how we use NDI and Waves' NDI driver for the Cloud MX mixer, with Gil Wasserman
— NDI tools and updates for audio, with Roberto Musso, Technical Product Marketing Director
— Roundtable discussion and live Q&A Session with all speakers