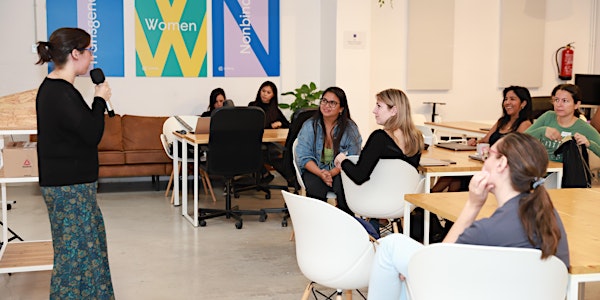 NEW CodeWomen event: Workshop on Imposter Syndrome, hosted by Novartis
On December 4, CodeWomen will organise an in-person workshop on the Imposter Syndrome, and hosted by Novartis. ⏬ ES
When and where
Location
Pg. d'Isabel II, 14 14 Passeig d'Isabel II 08003 Barcelona Spain
About this event
New CodeWomen event: how to deal with the Imposter Syndrome!
(Traducción al español ⏬ debajo del texto en inglés)
CodeWomen is a community for women, by women. We meet three times a month in different locations, to help on coding or design stuff and get career advice and tips from other women working in tech. We take time to get to know each other and broaden our network.
⏰ Programme 🤓
Introduction round (we use LinkedIn for this!)
Talk on Imposter Syndrome by María José Lalama
#IamRemarkable group activity
Networking and socializing
You'll get to meet amazing women who are career changers, learning how to code, and others who already work in tech. Learn from each other, no matter what level you're at, and have a lot of fun! Food and drinks are provided by our generous host.
👩🏾‍💻 Who can participate? 👩‍💻
This meeting is for women+ (inclusive of trans and non-binary) from all backgrounds who are switching careers into tech or already work in the IT field. You are a (bootcamp) student or learning by yourself, a graduate looking to apply for a job in tech or already a professional technologist. We use English during the meetings but most of our volunteers and many participants speak Spanish or other languages too.
🔐 Secure your spot now 🔐
This meeting will take place on December 4 from 12.00 to 15.30 hrs at the Novartis office, and you can already save your spot! Attendance is limited so registration is absolutely necessary. All you need is your motivation, LinkedIn on your phone or laptop, and to be on time!
There is no elevator! Let us know if you will need assistance with the stairs.
Location: Pg. d'Isabel II, 14, 08003 Barcelona
The closest metro station is Barceloneta (line 4).
👩🏾‍💻 👩🏼‍🎓 About CodeWomen 🙋‍♀️👩🏿‍💻
CodeWomen was born in July 2020 within Open Cultural Center, a non-profit supporting refugees and migrants in Barcelona. Our goal is to support and empower women who want to make a career change into tech. We meet three times a month in different locations, to network, work on coding projects, help each other, and get career advice and tips from other women developers. The project is managed by Henriette Hettinga, who herself made a career change by starting to programme a few years ago. Read more about CodeWomen and follow us on LinkedIn and on Eventbrite. Contact: henriette@openculturalcenter.org.
💉 About Novartis 👩‍💻
799 million. That's how many lives Novartis' products touched in 2019. And while we're proud of that fact, in this world of digital and technological transformation, we must also ask ourselves this: how can we continue to improve and extend even more people's lives? The Barcelona Digital Finance hub is a startup within Novartis, which crafts finance business partnering solutions demonstrating innovation and talent. The hub offers a real opportunity to develop in a highly fast-paced, multicultural, technology-driven environment where collaboration and innovation are at the heart of who we are and what we do.
🤝🏽 Code of Conduct 🤝🏽
CodeWomen is meant to be a safe space, for learning and exchange as well as support and encouragement. Whilst working together we're dedicated to providing a harassment-free community for everyone, regardless of gender identity and expression, sexual orientation, disability, physical appearance, body size, race, religion, and programming background. We do not tolerate harassment of community participants in any form.
📞 Contact ⏰
If you would like to be added to our WhatsApp group to receive last minute updates about the event such as reminders, changes, or cancellations, please join with this link https://chat.whatsapp.com/BQCOibi5tDkHXRbtankvYm or, in case of some problems, send a message to +43 660 28 02 388.
Nuevo evento CodeWomen: ¡Cómo lidiar con el "impostor syndrome"!
CodeWomen es una comunidad para mujeres, por mujeres. Nos reunimos tres veces al mes en diferentes lugares, para ayudar con preguntas de código o diseño e intercambiar consejos profesionales con otras mujeres que trabajan en tecnología. Es una gran oportunidad para conocernos y ampliar nuestra red de contactos.
⏰ Programa 🤓
Charla sobre Imposter Syndrome
Actividad en grupo - #IamRemarkable
Networking y socialización
Podrás conocer a mujeres increíbles que están cambiando de carrera, aprendiendo a programar, y a otras que ya trabajan en el sector IT. Aprenderás de las demás, independientemente del nivel en el que te encuentres, y te divertirás mucho. La comida y las bebidas son ofrecidas por nuestro generoso anfitrión.
👩🏾‍💻 ¿Quién puede participar? 👩‍💻
Este encuentro es para mujeres+ (incluyendo trans y no binarias) de todos los orígenes que estén aprendiendo a programar o que ya trabajen como desarrolladoras. Eres la bienvenida sea cual sea tu nivel, ya seas estudiante de bootcamp o aprendiendo por tu cuenta, graduada buscando trabajo o ya profesional del sector tecnológico. Usamos el inglés durante las reuniones, pero la mayoría de nuestros voluntarias y participantes también hablan español u otros idiomas.
🔐 Regístrate ahora 🔐
Este encuentro tendrá lugar el 4 de diciembre de 12.00 a 15.30 horas en Novartis, ¡y ya puedes reservar tu plaza! La asistencia es limitada por lo que la inscripción a través de esta página es absolutamente necesaria. Lo único que necesitas es tu motivación, LinkedIn en tu teléfono o portátil, ¡y llegar a tiempo!
¡No hay ascensor! Avísanos con antelación si necesitas asistencia para subir.
Lugar: Pg. d'Isabel II, 14, 08003 Barcelona
La estación de metro más cercana es Barceloneta (línea 4).
👩🏾‍🎓👩🏾‍💻 Sobre CodeWomen 🙋‍♀️👩🏾‍💻
CodeWomen nació en julio de 2020 como proyecto del Open Cultural Center, una ONG que apoya a los refugiados y migrantes en Barcelona. Nuestro objetivo es apoyar y empoderar a las mujeres que quieren hacer un cambio de carrera hacia la tecnología. Nos reunimos tres veces al mes en diferentes lugares, para establecer contactos, trabajar en proyectos de codificación, ayudarnos mutuamente y obtener consejos profesionales de otras mujeres desarrolladoras. El proyecto está gestionado por Henriette Hettinga, que cambió de carrera al empezar a programar hace unos años. Lee más sobre CodeWomen y síguenos en LinkedIn y Eventbrite. Contacto: henriette@openculturalcenter.org.
💉 Sobre Novartis 👩‍💻
799 millones. Esa es la cantidad de vidas que los productos de Novartis tocaron en 2019. Y si bien estamos orgullosos de ello, en este mundo de transformación digital y tecnológica, también debemos preguntarnos: ¿cómo podemos seguir mejorando y ampliando aún más la vida de las personas? Barcelona Digital Finance hub es una startup dentro de Novartis, que crea soluciones de partnering empresarial financiero que demuestran innovación y talento. El hub ofrece una oportunidad real de desarrollarse en un entorno multicultural, tecnológico y de gran velocidad, en el que la colaboración y la innovación están en el corazón de lo que somos y lo que hacemos.
🤝🏾 Código de conducta 🤝
CodeWomen pretende ser un espacio seguro, de aprendizaje e intercambio, así como de apoyo y estímulo. Mientras trabajamos juntos, nos dedicamos a proporcionar una comunidad libre de acoso para todos, independientemente de la identidad y expresión de género, la orientación sexual, la discapacidad, la apariencia física, el tamaño del cuerpo, la raza, la religión y los antecedentes de programación. No toleramos el acoso a los participantes de la comunidad en ninguna de sus formas.
📞 Contacto ⏰
Si quieres que te añadamos a nuestro grupo de WhatsApp para recibir actualizaciones de última hora sobre el evento, como recordatorios, cambios o cancelaciones, por favor únete a este enlace https://chat.whatsapp.com/BQCOibi5tDkHXRbtankvYm o, en caso de algún problema, envía un mensaje a +43 660 28 02 388.