nrg4SD 2017 General Assembly

Wednesday, 4 October 2017 at 09:00

-

Friday, 6 October 2017 at 18:00 (Reunion Time Réunion Time)
Event Details
ES & FR versions follow below
The 2017 nrg4SD General Assembly (GA) & the second edition of the international conference on climate change adaptation "Islands, land of innovative solutions for all territories" will take place on 4-6 October 2017, in Saint-Denis, capital of the Reunion Island, a French and European region in the Indian Ocean.
The events will be hosted by the regional government of the Reunion Island, represented by President Mr. Didier Robert. You may find the daily programe of events below.
This will be a very special event: nrg4SD celebrates 15 years with the launch of a joint declaration reaffirming the commitment of regional governments to climate change, sustainable development, biodiversity conservation, the urban agenda and more.
This will also be an excellent moment for networking with nrg4SD members, non-members and partners, and to showcase your leadership in building sustainable and resilient territories!
Join us for this unique opportunity of celebrating the past and committing to a new future!
(More information at www.nrg4SD.org/ga2017 & www.reuniongreenrevolution.com)
_____________________________________________________________________________________________
Version française
L'Assemblée générale de nrg4SD 2017 et la deuxième édition de la Conférence internationale sur l'adaptation au changement climatique « Les îles, terres de solutions innovantes pour les territoires », auront lieu du 4 au 6 Octobre 2017 à Saint-Denis, capitale de la île de la Réunion, euro-région française dans l'océan Indien.
Les événements seront accueillis par le gouvernement régional de l'île de la Réunion, représentée par le Président M. Didier Robert. Vous pouvez trouver le programme quotidien des événements ci-dessous.
Ce sera un événement très spécial, nrg4SD célèbre 15 ans avec le lancement d'une déclaration conjointe réaffirmant l'engagement des gouvernements régionaux en matière de changement climatique, de développement durable, de conservation de la biodiversité, d'agenda urbain et de plus.
Sera aussi une excellente occasion d'établir des contacts avec les membres de nrg4SD, non-membres et partenaires et faire preuve de leadership dans la construction de territoires durables et résilient.
Rejoignez-nous pour cette occasion unique de célébrer le passé et engager dans un nouvel avenir! (Plus d'informations à www.nrg4SD.org/ga2017 & www.reuniongreenrevolution.com)
_____________________________________________________________________________________________
Versión en castellano
La Asamblea General de nrg4SD de 2017 y la segunda edición de la Conferencia internacional de adaptación al cambio climático "Islas: tierra de soluciones innovadoras para todos los territorios", tendrán lugar del 4 al 6 de octubre de 2017 en San Denis, capital de la isla de La Reunión, región euro-francesa en el océano Índico.
El anfitrión de ambos eventos será el gobierno regional de la isla de La Reunión, representado por el Presidente Sr. Didier Robert. Puede encontrar el cronograma de los eventos en la tabla abajo.
Este será un evento muy especial, ya que nrg4SD cumple 15 años desde su fundación y lo celebraremos con la presentación de una declaración conjunta, reafirmando el compromiso de los gobiernos regionales en materia de cambio climático, desarrollo sostenible, conservación de la biodiversidad, la agenda urbana y más.
Este será también una excelente oportunidad para establecer contactos con miembros de nrg4SD, no miembros y socios, y demostrar su liderazgo en la construcción de territorios sostenibles y resilientes.
¡Acompáñenos en esta oportunidad única de celebrar el pasado y comprometerse con un nuevo futuro! (Más información en los siguientes enlaces www.nrg4SD.org/ga2017 & www.reuniongreenrevolution.com)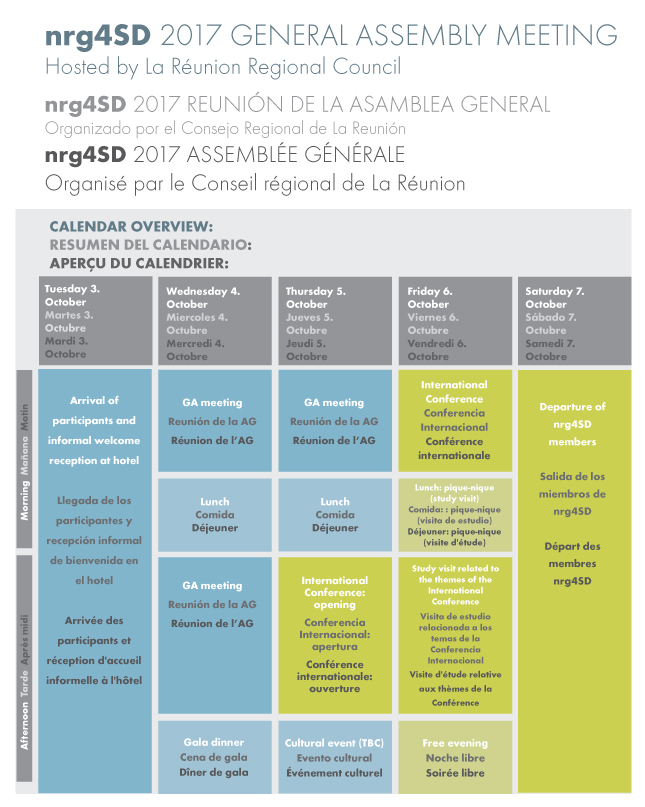 When & Where

Saint-Denis (Le MOCA -Montgaillard Culture et Arts)
Route de Montgaillard 97400, Saint Denis
Saint-Denis, 97801
Réunion

Wednesday, 4 October 2017 at 09:00

-

Friday, 6 October 2017 at 18:00 (Reunion Time Réunion Time)
Add to my calendar
Organiser
The Network of Regional Governments for Sustainable Development, nrg4SD is a global network that represents solely regional governments in the fields of climate change, biodiversity and sustainable development.
It was established in 2002, at the World Summit in Johannesburg, and today has over 56 members from 28 countries in 4 continents