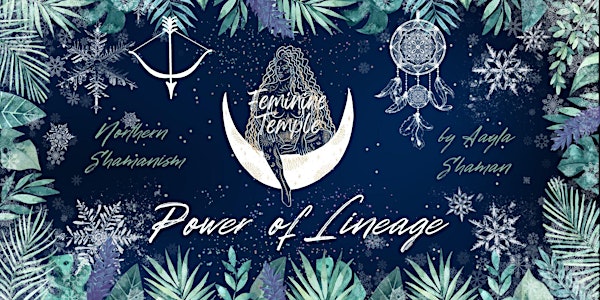 Power of Lineage course - Feminine Shamanism
The legendary course of Shaman Aayla ¨now is available to practice in a group of like-minded women! Become the Keeper of your Lineage.
When and where
Location
Alchemist Garden Community 409 Overtoom 1054 JP Amsterdam Netherlands
About this event
The legendary course of the shaman known in 37 countries.
🌿 𝗖𝗼𝘂𝗿𝘀𝗲 "𝗣𝗼𝘄𝗲𝗿 𝗼𝗳 𝗟𝗶𝗻𝗲𝗮𝗴𝗲"
A group class of 5 blocks with the video-lessons and live group practice.
🌲 Realize the reasons of our health problems, what do they show us, and how working with the Lineage helps to cure them.
🌲 Discover a strong connection to your lineage and feel its healing power. Become a healer for yourself and your loved ones.
🌲 Womb - source of female power and energy of her lineage. Womb cleansing ritual and practises to regain energy.
🌲 A shamanic journey to your ancestors: The power and Predestination of your lineage
🌲 Access to limitless life force and abundance, given to you by your ancestors, get rid of debts, loans, money problems in your life.
Aayla will help you to connect with your lineage during this in-depth, shamanic online course consisting of 5 lessons. In each lesson you will dive into the energy field of your ancestors.
1️⃣ 18/01 Shamanic Ritual: Prayer for the lineage
2️⃣ 01/02 Shamanic Ritual: Prayer for the ancestors
3️⃣ 15/02 Shamanic Ritual: Energetic womb cleansing
4️⃣ 01/03 Shamanic Ritual: Purification of the house from negative influences and energy
5️⃣ 15/03 Shamanic Ritual: Connecting with the spirit of money.
Together will clear the way for you, your children and descendants. Your destiny, the destiny of everyone connected with you, and the destiny of your whole lineage will start to change.
𝗪𝗘 𝗠𝗘𝗘𝗧 𝗢𝗡 𝟭𝟴 𝗝𝗔𝗡𝗨𝗔𝗥𝗬 𝗔𝗧 𝟭𝟵:𝟬𝟬
Alchemist Garden, Amsterdam
▪️ 10€ First session / 15€ Regular session
▪️ Prepare comfortable clothes, take your drum (if you have)
▪️ Each session includes tasty homemade snack and tea from Alchemist Garden
WHO IS HOSTING
Diana is a feminine dance coach, yoga instructor, leader of feminine power activation ceremonies. Spent the last 2 years in deep spiritual retreat, learning from hereditary Priestesses and Shamans, and meditating on Places of Power. Received initiation to Moon Priestess and to provide Feminine Temple dance. As a close student of Supreme Northern Shaman Aayla, bringing the ancestral feminine knowledge and traditions to modern women.
CONTACT
+31686324436 Feminine Temple
Website of the course: https://lineage.aaylashaman.com/en/