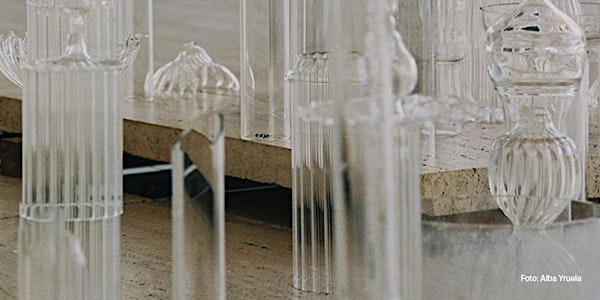 Presentació catàleg de la intervenció artística Beautiful Failures
Presentation | Presentació | Presentación "Beautiful failures" - Stella Rahola & Roger Paez
When and where
Location
Pavelló Mies van der Rohe 7 Avinguda Francesc Ferrer i Guàrdia 08038 Barcelona Spain
About this event
Beautiful Failures va transformar el Pavelló Mies van der Rohe reflexionant sobre la vulnerabilitat a través del vidre i el travertí. La proposta dels estudiants del Master in Ephemeral Architecture and Temporary Spaces (MEATS) d'Elisava, conduïda per Stella Rahola Matutes i Roger Paez, és ara també una publicació que recull el planteig de l'exercici, el procés de treball i la intervenció final, així com la recopilació del treball de recerca elaborat durant dos anys.
Et convidem a venir al Pavelló a la presentació del catàleg Beautiful Failures el proper dilluns 12 de setembre a les 19h, per tal de conèixer de primera mà aquesta nova publicació que se suma a la col·lecció de catàlegs d'intervencions artístiques que donen sentit al Pavelló com a plataforma que integra la recerca arquitectònica i les arts, i que enllaça el món acadèmic, la producció artística i la cultura arquitectònica.
Presentats per Anna Ramos, directora de la Fundació Mies van der Rohe i Alex Susanna, director d'art de la Fundació Vila Casas i Javier Peña, director general d'Elisava podrem sentir les aportacions dels autors (estudiants i professors) i de la dissenyadora de la publicació Valentina Pulian sobre el catàleg i sobre la peça d'art resultant d'aquesta intervenció que incorporem a la Col·lecció de la Fundació Mies van der Rohe.
Esperem que puguis gaudir de la conversa així com d'aquesta magnífica publicació que convida a la reflexió des de la potència de les imatges que ens revelen una realitat fràgil i contundent. T'agradarà!
Subscriu-te al nostre butlletí i no et perdis res!
Pots comprar aquí el teu exemplar
*******************************************************************************************************
ESP
Presentación de la publicación "Beautiful Failures" de Stella Rahola & Roger Paez.
Beautiful Failures transformó el Pabellón Mies van der Rohe reflexionando sobre la vulnerabilidad a través del vidrio y el travertino.La propuesta de los estudiantes del Master in Ephemeral Architecture and Temporary Spaces (MEATS) de Elisava, conducida por Stella Rahola Matutes y Roger Paez, es ahora también una publicación que recoge el planteamiento del ejercicio, el proceso del trabajo y la intervención final, así como la recopilación del trabajo de investigación elaborado durante dos años.
Te invitamos a venir al Pabellón a la presentación del catálogo Beautiful Failures el próximo lunes 12 de septiembre a las 19h, para conocer de primera mano esta nueva publicación, que se suma a la colección de catálogos de intervenciones artísticas que dan sentido al Pabellón como plataforma que integra la investigación arquitectónica y las artes, y que enlaza el mundo académico, la producción artística y la cultura arquitectónica.
Presentados por Anna Ramos, directora de la Fundació Mies van der Rohe y Alex Susanna, director de arte de la Fundació Vila Casas y Javier Peña, director general de Elisava podremos escuchar las aportaciones de los autores (estudiantes y profesores) y de la diseñadora de la publicación Valentina Pulian sobre el catálogo y sobre la pieza de arte resultante de esta intervención que incorporamos a la Colección de la Fundació Mies van der Rohe.
Esperamos que puedas disfrutar de la conversación, así como de esta magnífica publicación que invita a la reflexión desde la potencia de las imágenes que nos revelan una realidad frágil y contundente. ¡Te gustará!
Puedes comprar aquí tu ejemplar
Suscríbete a nuestro boletín y no te pierdas nada!
*******************************************************************************************************
ENG
Presentation of the publication "Beautiful Failures" by Stella Rahola y Roger Paez
Beautiful Failures transformed the Mies van der Rohe Pavilion by reflecting on vulnerability through glass and travertine. The proposal of the students of the Master in Ephemeral Architecture and Temporary Spaces (MEATS) of Elisava, led by Stella Rahola Matutes and Roger Paez, is now also a publication that collects the approach of the exercise, the process of the work and the final intervention, as well as the compilation of the research work developed over two years.
We invite you to come to the Pavilion for the presentation of the Beautiful Failures catalogue on Monday 12 September at 19h, to get to know this new publication first-hand, which joins the collection of catalogues of artistic interventions that give meaning to the Pavilion as a platform that integrates architectural research and the arts, and which links the academic world, artistic production and architectural culture.
Presented by Anna Ramos, director of the Fundació Mies van der Rohe and Alex Susanna, art director of the Fundació Vila Casas and Javier Peña, general director of Elisava, we will be able to listen to the contributions of the authors (students and professors) and the publication's designer Valentina Pulian about the catalogue and about the piece of art resulting from this intervention that we are incorporating into the Fundació Mies van der Rohe Collection.
We hope you enjoy the conversation, as well as this magnificent publication that invites you to reflect on the power of images that reveal a fragile and forceful reality. You'll love it!
Subscribe to our newsletter and do not miss anything!
*******************************************************************************************************