Description
Para los mayores de 50 años.
El experto y veterano Eric Knowles conocido por millones en la televisión Británica, una vez más estará disponible para ofrecer valoraciones gratuitas de artículos pequeños y artículos más grandes en fotografías.
En el 50s + EXPO en el lujoso Hotel IPV Beatriz Palace, Fuengirola
La muy popular 50 Plus Expo, el evento de estilo de vida para los expatriados y lugareños retirados de la costa, regresa este año a un nuevo y lujoso local.
El evento tendrá lugar en el hotel de cuatro estrellas Hotel IPV Palace and Spa, frente a la A7 y al lado del Castillo de Sohail en Fuengirola el fin de semana del sábado 2 y el domingo 3 de diciembre. DIRECCIONES.
Los organizadores dicen que trajeron el evento al este lugar de la costa, "a petición de numerosos expositores y visitantes".
Pero, dicen, será 'business as usual' para el espectáculo que incluirá muchas de las características que han hecho que este evento único sea tan exitoso en la última década.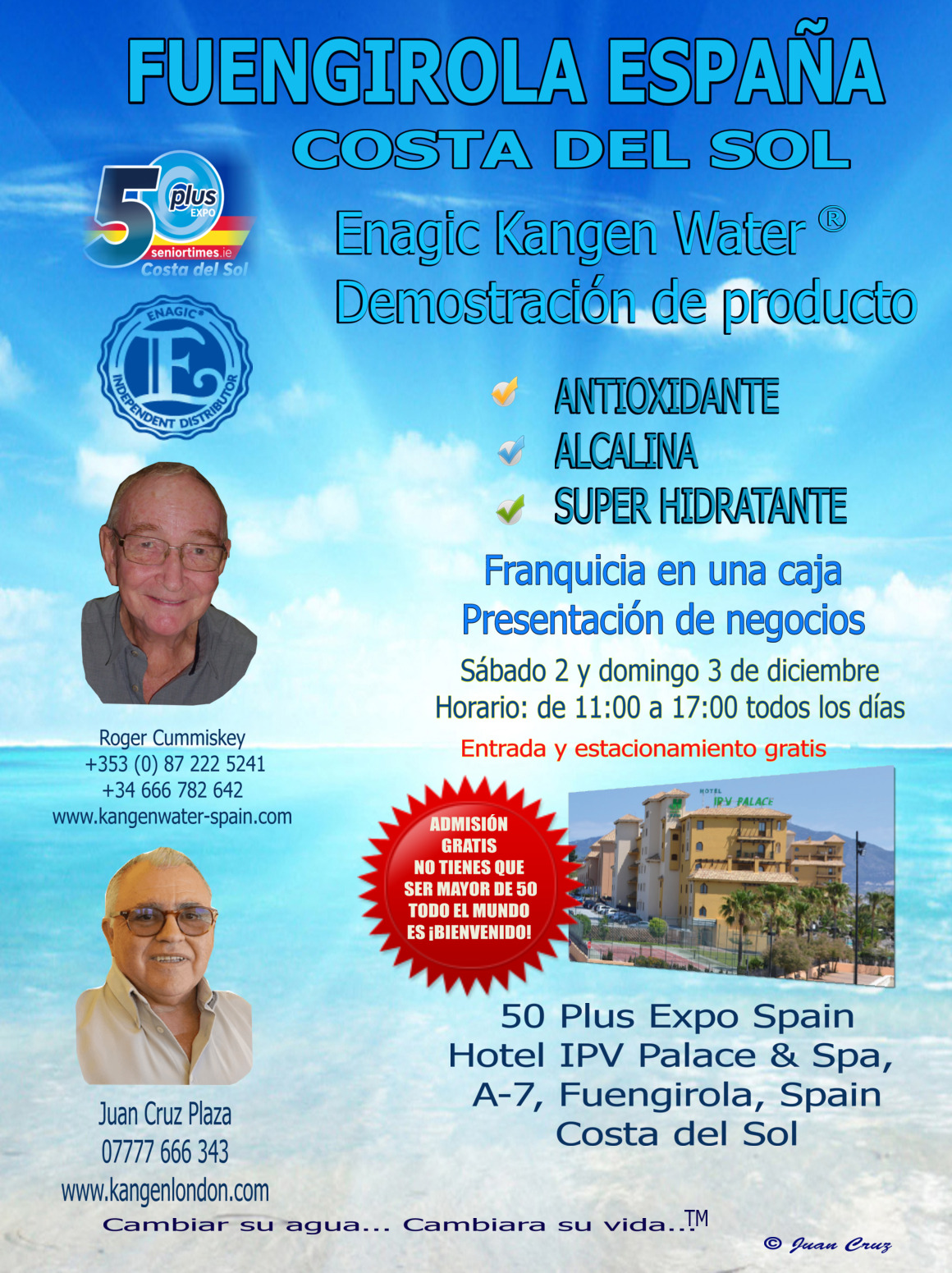 Art exhibition at The 50s Plus Show
The Andalusian International Artists art group will be displaying their new works at the show. The AIA Art Group was formed in 2004 by professional and dedicated visual artists from around Europe who are all living and working in Andalucía. They are a nationally registered Group in Spain.
The artists will comprise Roger Cummiskey, Dolores Cummiskey (Ireland); Juan Cruz Plaza (Spain); Auli Suvanto Salokannel (Finland); Debra Colleman (USA).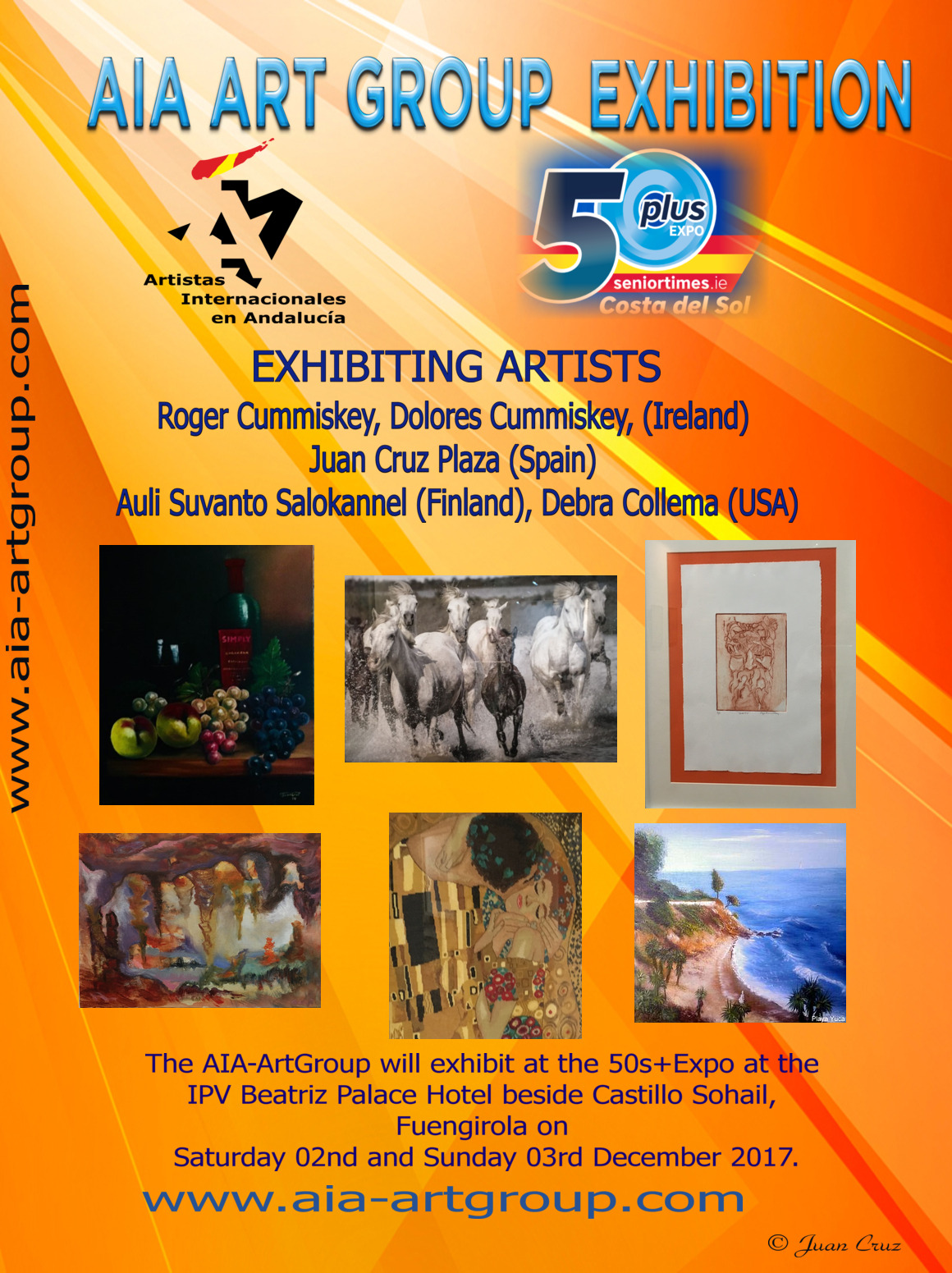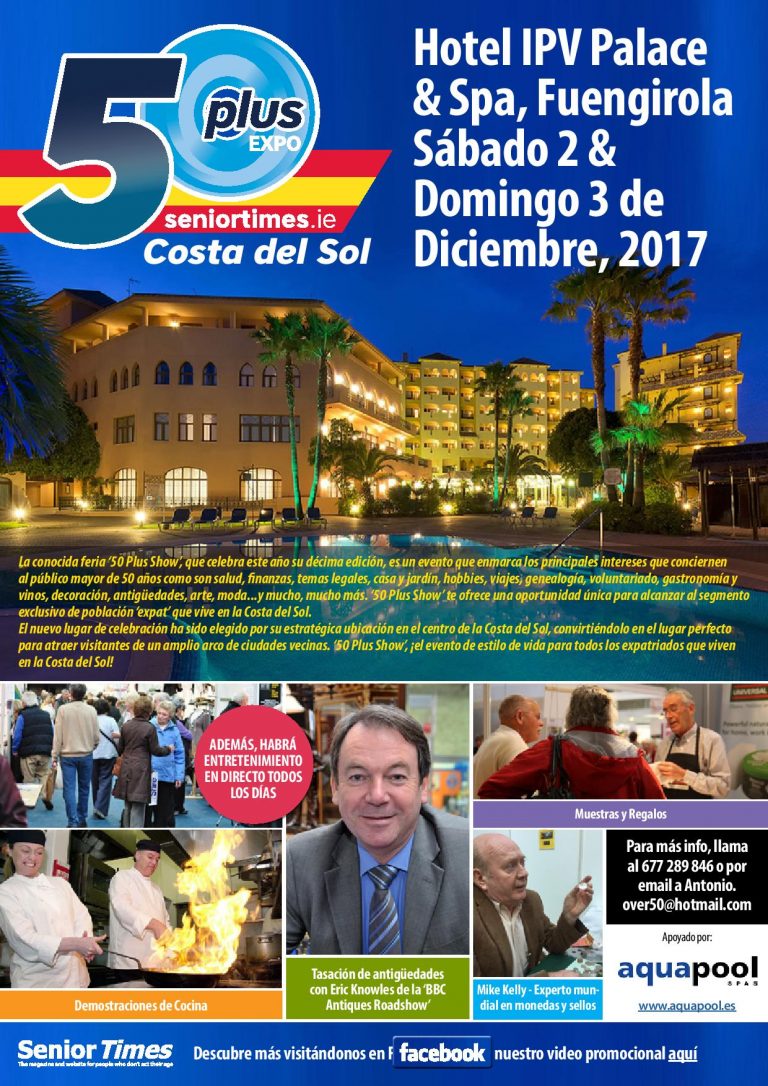 Los organizadores agregan que debido a que el evento se montará al comienzo de la temporada festiva también habrá muchas atracciones navideñas, especialmente demostraciones de cocina que ofrecen platos tradicionales y más cocina nueva, así como también una característica de regalo de Navidad.
El evento ofrece a los mayores de 50 años una "ventanilla única" para obtener información sobre su salud física y financiera, así como
para disfrutar de muchos de sus intereses y
pasatiempos. La salud y el bienestar serán un elemento clave del evento basado en la premisa bien comprobada de que el ejercicio, la dieta sensata y el control regular de rutina ralentiza el proceso de envejecimiento.
Los visitantes pueden hacer uso de la presión arterial y las pruebas de glucosa en sangre; el monitoreo de la columna vertebral y la detección de la densidad ósea también estarán disponibles, respaldados por información sobre el tratamiento de las articulaciones artríticas y el dolor de rodilla.
Si está interesado en exponer en la Exposición de más de 50 años, comuníquese con los organizadores para obtener más información a: des@slp.ie o al teléfono: 003531 4969028